Oxalis stricta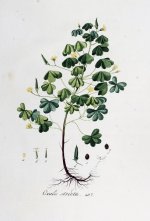 Fri, 02 Apr 2021
Vinegar-veined, this sour grass
spreads, decumbent, lying low
across willing earth, beside paths,
its brocade of trifoliate green
and blooms of lemon yellow.
You see now its quiet loveliness,
but I do not know
when it became a weed.
A weed amidst the extension 
of so much added ugliness,
so much greater cruelty - 
and who could ask us not
to designate, to rename, to crush 
any different sort of beauty,
and not to look away. 
 
Torn from soil, this friend
of bee fly and cabbage white,
limp petalled and browned
where cordate leaves
once gathered to sleep
beneath the rhythm of night.
How easily we seem to abandon 
and discard each other,
turn our heads, wanting love, ever
wanting everything, when ignorance
is just another kind of hate. 
 
Image is from here: https://commons.m.wikimedia.org/wiki/File:Oxalis_stricta_—_Flora_Batava_—_Volume_v7.jpg