Honeysuckle On The Breeze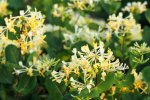 Sun, 13 Jun 2021
1 likes
Bring summer flamboyance untamed merging,
not a dance between air's trembling touch;
but yellow and cream gathering in June,
delighted to climb and amble; enticing
transformation from flora's presence,
winding splendour creeping across
garden latticework.
Moments of sweet scent lingers while
earth lies hushed...yet never sleeping, just
encompassing existence of roots that with
confidence hang out with crawlers,
strands pop out of tubular trumpets,
spindly colourful legs that resemble
spiders staking their claim; they too
have a role to play,
at night moths take comfort in
transmission, like a happening
with no music, just silent interplay;
winged insects lapping up fragrance,
for tomorrow's nectar may soon be gone.
Free to use photo.