A Northern Song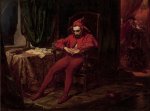 Mon, 01 Nov 2021
1 likes
The same old jester, the same old tune:
"wealth and prosperity coming soon,"
to a village, near you, that once was a town
- right up 'til the day the factory closed down.
We had a gasworks, a steel mill and a market too,
there was even a place to turn horses to glue.
A station for police and one for the train,
all of them gone: " just money down the drain."
There is talk of developments on brown-field sites,
shoe-box houses with attendant street lights.
"Build a railway station!" though there isn't a line
- and there hasn't been, since they closed down the mine.
All the empty promises, not one of them meant,
the same old jester, singing Feste's lament.
[Hear this on soundcloud here : https://soundcloud.com/user-224867227/a-northern-song
If I could afford Patrick Stewart, people might buy my poetry]