If I Could Turn Back Time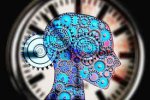 Tue, 21 Dec 2021
1 likes
For a minute clock stops! No more ticktock,
silence deafening. Then without warning hands
begin working in reverse, strange phenomenon
happening; minds spinning tossed with visions,
illusions babbling in wrong direction.
Sighs of yesterday, brief gestures roused
by intoxicating conversations of another
time and place, coming straight from a once
simmering pot; flustered by widdershin stirred,
a glance alive with chaos,
taunting images bubbling over; recalling how
freedom once lived in our hearts, walking into
brighter worlds; desiring nothing more than
drifting in hazy moments.
Imagine rushing into last autumn's swirling leaves,
created by whispering breeze; reminding me of
many free spirits, distracted by curiousness that
entranced in so much confusion;
unaware those last goodbyes, beautiful minds in
search of movement; not neglecting feelings,
just never imagining friendships wouldn't last.
Now there's stillness, opening eyes; checking clock,
time drifts on, a comfort. I think perhaps it's better
those memories were made to last...but are kept in the past.
Pixabay free image.