Amongst The Memories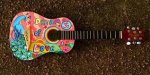 Wed, 06 Apr 2022
Dear diary...Amongst all
those young recollections
of diverse friendships,
now I have only memories
that bind us.
Words in a poem are linked
by flavours – aromas – musical
sounds and that all important
ingredients: Peace, Love and
Happiness.
Come knowing scattered
voices, reminisce foraging
summer's feast, blending
whispers while harvesting
nature's essence of peace;
those significant moments
resembling clutch of herbs,
gathering combinations with
touch of love; in other
words...
capturing unhurried
reflections, companions
diverse; vividly recall
swirling aromas of
flavour that allures,
memories that carried us;
sustaining spirit when we
were young, life filled with
challenges; disapproving
frowns from dad and mum.
Despite criticism we traveled
far and wide; found festivals
of music, those events where
potent happiness was alive.
Although I've now grown
older, shed young skin
retained close by,
musing now in poetry;
keepsakes remain like
a token to apply.
Pixabay free to use image.