Trail Of Thought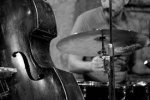 Mon, 02 May 2022
2 likes
A poem written to the sounds
of Jazz, and inspired by
the Bohemian and Beat
Generation.
Afternoon Lounge Jazz - Relaxing Jazz Music for Work & Study - YouTube
Beat-nik by J.M. Van Eaton (Cool Daddy O 60's beatnik music) - YouTube
Arbiters of drama envelope
listeners, intrigue minds,
troubadours little known,
attentive to bohemian art;
that of Salvador Dali and
Amedeo Modigliani.
While Jazz from some
mellow back street joints,
where sticky floors
meet pounding beats;
smudging atmosphere,
relaxed cool cats are fine.
Streaking eye shadow runs
down flush of cheeks,
lipstick smears...and
still flows the drinks.
Mouthy drunks;
philosophers converge
gaudy coffee bars,
versed in idiomatic
alternative phraseology,
putting world to right
with intellectual
opinions on society,
while others standing
in shop doorways, or
on edge of city corners,
waiting for that daily fix,
feelings of high flying on
haze of hopefully not dying,
crafty foxes calculating:
befriending victims worm
for bating, they'll offer
glance into your soul
at leisure, cut you off;
hard cash is what
they're after.
At dawn after partying hard,
hipsters swagger to their squat,
hit sack recalling voices churning;
pulsating rhythms in their dreams
of smoky clubs and lyrical themes
of non-conforming.
Pixabay free to use image.