Love In The Mist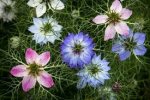 Wed, 08 Jun 2022
Sealed petals tenderly chaste,
endorsing ardent purity laced;
rambling shades swell blue, 
lavender, pink and white,
enchanting gardens with
magnetic grace that's bright.
So full of colourful expression;
gives reason to smile for short
while, when passions are
sometimes touched by rain;
before the sun comes out again.
Masterpiece though transient,
unfurls its many virgin hues;
downpour wasn't heavy...just
enough to touch quintessence
of refreshing blooms in June,
embraced by clusters of misty
feathery green; like a piece of
art that should be seen.
Pixabay free to use picture.