Chemo 2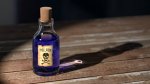 Sat, 09 Jul 2022
1 likes
I took my poison and survived. 
That might sound melodramatic, but on the consent form I signed, it listed the possible side effects, and death was number 2 on the list. It also featured stroke, heart attack, more cancer, and the more expected ones, like nausea, were sandwiched in there too. 
It was so easy and painless that i almost feel embarrassed at how stressed I was about doing it.  I do expect it will get worse, much worse, over time.  But it was pleasant to have a gentle introduction to the process.
I was disappointed in the others in the unit - as I was hoping for a good chinwag - sharing stoma stories.  There are 8 chemo chairs in the unit for the colon and breast cancer people.  They are very posh chairs, which have leg rests and can be tipped back for a nap. Mine was purple, and very comfortable.  The nurses were very attentive and friendly. My daughter was with me, in a chair facing me, which annoyed her because she  couldn't see what was going on with the action station behind her.  On the far end were five men - four of whom had many bags hanging from their poles, while one was there for the crack. (Irish, not sure how to spell it).  They were all oldish - although probably younger than me. It's hard to tell. 
 On one side of me was a young woman - maybe in her 50's - and her husband was with her, so probably a first timer like me. But she was getting the full works.  A long drip followed by two  weeks of tablets and then a week off. The doctor  didn't think my aged cells would cope with that.  She didn't smile or make any hint of caring who I was, and when they left, I noticed they had left their biscuits still in their wrappers behind. I really wanted to take them, but my daughter told the nurses, and they gave me some custard creams of my own. They had offered us tea or coffee earlier on, and some people had sandwiches.  
The lady on the other side of me (probably in her 70's) brought her own food and drink, and a big box of strawberries for the nurses.  She also brought a newspaper and when I tried to get into conversation with her, asking how long she had been coming - she said five years, and that was the end of it.  But by listening in on her conversations with the nurses whom she knew very well, we found out she had breast cancer, and had just come from the other hospital I go to, which specialises in breast cancer. Her hair was about an inch long, so we were pretty sure she hadn't had her chemo for colon cancer, as we have been told that it is almost 100% sure that we won't lose our hair.  She had a central line neck connection and they couldn't open the little tap on it.  So this bunch had the right tools so she could get her fix.
I asked the nurse if there were any patients on the same medicine as I am on - and she said there was one other, who had been in earlier.  But she said my drug was hardly ever used any more - although it  had been used a lot in the past.  I wonder what message I should take from that. 
As far as the procedure - I had my blood pressure taken, and was weighed. The amount of the poison is based on body weight. I got a third of the usual dose - 333 mg. I was attached to a cannula, and a saline drip put in. After about 10 minutes, the nurse came and injected first a folate drug, which helps the cancer drug work - and that took about five minutes.  Then she use a bigger plunger and did the poison.  I felt a little light headed, but that might have been hunger - as I hadn't had a proper lunch, and it was about 2.  So that was when I got my custard creams, and I felt OK after that. 
Next week we aer to go at 9.30 and I will have a blood test first to see how the medicine has changed my blood picture.  The consultant told us before we had the treatment that everything was fine, and that the blood test that they use to see if the cancer is spreading was negative.
Apparently the poison acts on any cells in the body that are fast at growing. It messes around with their DNA so they can't replicate.  But it affects any other body cells that divide quickly too - mainly the lining of the intestinal track - including the mouth and stomach.  So they gave me mouth wash for potential mouth ulcers. They also expect Effie to be more active, so medicine for that, and at the request of my daughter, reluctantly gave me antiemetic stuff, which they were sure I wouldn't need. But I prefer to be prepared just in case. 
My daughter stayed over, just in case I had bad side effects. I had indigestion, but so did she, so probably that was the food, not the poison.  But the next day I was very tired all day long. I had several long naps, and felt puny. (My sister's favourite word for not feeling quite right.) And Effie seemed to be more active than usual.
Today, I can report that I slept well, and had no further problems, and don't feel like I need a nap at the moment. So hopefully that will continue until my next date with potential death.