Midwinter, Remember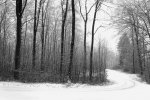 Fri, 16 Sep 2022
1 likes
Bent bracken diamonding the slant light,
fern trampled into forest floor where nothing (seen)
can surely roam.
The whole woods undeservedly deserted
and home to no-one.
Gone, the musk tang of October sunk
into the thin dwindled thread of a trail
that only the polecat follows.
There is a way, remember, through this,
past sister winter widowed by the weeping wind.
Signposts are here, fearfully looking back,
hopefully ahead, and into something else.
Ice gets inside you, ahead of any thaw,
so that you are always bare as the black
branch exposed to the knowing gale.
Other breath emerges, captured in white shadow
imprinted on the dark bark beside you.
And the crepitation of ice becoming water
harbours voyagers from other places.
In this day silence no guarantee of safety,
each grove a passing place without grace,
and the aching wait, the winter's weight,
deafening on all senses.