All Hallows Eve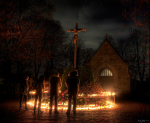 Fri, 28 Oct 2022
1 likes
Audio version at: https://soundcloud.com/user-62051685/all-hallows-eve-mp3
All Hallows Eve
A cacophony of clocks striking,
mordant midnight memories,
tallow candles lit, flickering,
whispers and silent prayers.
Cantaloupe pumpkins grin,
Jack O'lanterns aflame inside,
liminal incandescence of
sanguine, bonfire light.
Church bells ringing, peeling,
sound-echoes for the sacred,
holy martyrs and saints,
remembrance of the Dead. 
Thin veil betwixt worlds,
chanted Celtic incantations,
witches scry after twilight,
spells cast in mystic ether.
Dance Macabre of bones,
spirits appear in mirrors,
ghosts roam this earth,
seeking spiritual redemption.
Moss-covered tombstones,
epitaphs obscured by lichen,
Purgatory awaits fresh souls,
until dawn returns again.
Image free to use via WikiCommons at: https://en.wikipedia.org/wiki/Halloween#/media/File:Halloween_Sweden.png