To A Brand New Day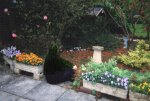 Thu, 17 Nov 2022
1 likes
Time to ponder on woman kind
like garden's fresh raw beauty,
blooming both inside and out.
When wisdom of years shall
feel the earth and rain quench
thirst.
Here and there in thought, away
with the fairies...those invisible
little helpers reflecting on charm
of beguiling young blessings.
Reflect and embrace youth with
all its desires, slip beneath folds
of petaled flowers, welcome wet
kisses of the honey bee; indulge
in fancies as soft buzz surrounds
garden magic while seasons pass
by.
Then when wild excitement has
shuffled on to younger followers,
this withered crone will catch
many autumn leaves as they fall,
know she'll ingratiate herself with
stars and moon to light the way;
giving back...for we will all return
home, being stardust to a brand
new day.
Photo is my own.