The New Maths Project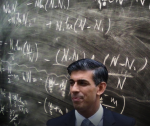 Wed, 04 Jan 2023
1 likes
By the pricking of his thumbs,
something wicked this way comes,
he makes a speech on doing sums.
See the grinning little man,
he likes sums because he can
tell the diff'rence between cos and tan.
Do not be an arty fool.
Do your sums 'til you leave school,
and never forget the BODMAS Rule.
He is so pleased in large amount,
to drown us all in knowledge's fount,
we will be numerate, but will not count.
Audio here