Doolally .6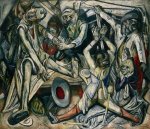 Fri, 28 Apr 2023
1 likes
It gets dark around this time. I guess the old lady has gone to bed. She's not sitting on her chair in the doorway. I pull off a trainer and take out the fifty pound note she gave me to buy her fags and gin.
I open the letter box to push the nifty through and start gagging cos there's a dead rat smell. Her flat must stink.  
I do feel snidey not buying her shoppin like she asked. At least I didn't steal her money. That's what most of them round here would do.
I slip the trainer back on, hearin voices. Straight off, I'm tensing cos it's Robert and Junior, who bully me for fun. I jump over the railing and run across the grass, watching the ground for soft brown landmines.
Some people haven't closed their curtains. They're sitting in their tiny livin rooms, eating dinner from trays on their laps, starin into the light of television screens, chewing on the stupidness of their programmes.
I look round the corner and hear girls as well. It's Tracey and her mate, Lisa. They're talkin about going to a gig, or Junior is as he's always mega fucken loud.
I haven't seen Lisa for ages. My brother Mike used to have a thing for her older sister, Joanne, but she was all up herself, going off to university. Mike was twistin when Joanne left. I remember asking him if he loved her, putting on a soppy voice, thinkin I was funny, and he went doolally, punchin a wall and telling me to shut my mouth. Mike has this scary temper when he loses the plot like that. It's why he's in Felsham.   
I sneak across the side of the square where the lamp post light is smashed, hidin in the shadows, feeling the waves that ol' Santini banged on about in the science class before Sara Zondi did her psycho hairdressing moves on Krish, who had to go to hospital and have stitches sewn into his head. I definitely believe in waves. I feel them around me, on the estate, tellin me when it's too dangerous to walk up a stairwell, down an alley, along one balcony and not another, or when to check my bedroom door is locked to stop fools comin in when I'm sleeping. Sometimes I think the waves are the ghosts of the estate, warning me of where the danger is and how to avoid gettin my head kicked in.
One day, I'd like to chat to Tracey about the ghost I overheard her talking about. Asking her whether she really thought it was her grandad and if she thinks the estate is haunted.
I wonder what I have to do to get her to talk to me.  
I climb onto the roof of the garages, keepin low like a Navy Seal.
They're smoking a joint. Junior makes a big deal of getting the girls to agree to go to the gig. You'd come with me, right? he says to Lisa and he starts doing these dance moves which makes her laugh.  
I keep silent, in full spider mode, peerin down on them. Robert has his arm round Tracey's shoulders.
They're sittin on a high step in the square between the two-storey flats and the garages. Junior sits back down next to Lisa and they start French kissing.
Robert pulls Tracey closer to him and says, Are you givin me a kiss or what?
Leave it out, she says.  
What? Are you frigid?
Pass me that, she says, meaning the joint he's holding.
He opens a can of lager and takes a swig, lookin at Junior, seeing his mate's hand riding under Lisa's skirt, touching her black stockings above her knee. She turns slightly so Junior can slide his hand up higher and onto her thigh.
I shuffle back on my belly and scan the long rooftop. It's difficult to see in the darkness. Keepin low, I stand up and spot a cracked slate. I pick it up and then go back to my position, watchin them.
I know Tracey doesn't like Robert. She hasn't laughed once. She's only with him cos he acts like a hardman, but I bet she knows he's a cockroach, living off of the reputation of his big brother, Sid, who Mike says is a proper criminal, doing armed robberies and stuff, not like the rest of them on the estate who are purse snatchers and small-time dealers.
One kiss, says Robert.
She smokes the joint.
Come on, he goes, moving closer, hookin his arm round her again.
What, so you can call me a slag?
Don't be like that.
She passes him what's left of the joint. He takes a drag, stubs it out and then he reels her in with his fat arm an the sight of him sticking his germy tongue in her mouth makes my stomach twist bad. I stand up and throw the slate as hard as I can onto the ground. It smashes into pieces and, straight off, I know I've made a mistake.
You fucken little wanka, shouts Robert.
Pervert, yells Lisa.
Junior is already on his feet and running at me.
I turn and my boosters go from 1 to 5. There's no countdown bullshit. Seriously, the afterburners are on and I'm sprintin along the roof, hearin Robert and Junior shouting and yelling behind me. Junior has pulled himself onto the garage roof and Robert is running round the side to the far end, tryin to cut me off.
The waves are comin from all directions. I'm figuring out how I can lose them. Running to the tower block ain't on as I can't hang around waitin for the front security door to open. If I run home, they'll find me for sure. And you fucken know more of them will be coming out. Tracey and Lisa will be on their phones, tellin fools how I'm this dirty little perv. Ready to fucken hunt me down like a fox.
My only chance is to get into the flats and lose them.
My heart is pumping. I see the end of the garage roof. I can't jump off onto concrete as I'll fuck my ankles when I land, but if I phaff about hanging off the side an dropping to the ground then Robert will come round and grab me.
There's a patch of grass to the right of the garage roof – I angle my run and jump off the edge, flying through the air and onto the turf, rolling over when I land an gettin on my feet to start running again.
My fucken shoulder hurts from the fall but I keep going.
Robert is close.
Don't lose him, shouts Junior.
I'm on him, bruv, yells Robert.
He thinks he is.
Cept he's forgetting how quick I am.
I leg it across the grass by the tower block and hurdle the wall, crossing the road an then I'm in the flats. I go up three flights of stairs, two at a time, doublin back along the balcony, listening to them shoutin, hearing them above and below me.
Go that way.
He must be over here.
Jason, you're fucken dead.
When I think it's safe, I run across the walkway four floors up that stretches over the road and connects to the next block of flats. I go up flights of stairs until I'm on the top floor. I climb over the wall for the bin chute and I'm standing on a concrete block that juts out. It's a sheer drop down to the streets below. One false move and ghost status is guaranteed. I pull myself up onto the outside of the chute, careful not to slip. I caterpillar upwards until I'm close enough to the top of the roof, getting the grip I need on the edge to pull myself up, trying not to think about what happens if I slip or how scary it'll be trying to get down.  
I pull my legs over and lie on my back, panting, feelin my heart goin ba-ba-boom in my chest.
All my senses are turned to the max. Waves going this way and that. Fucken nuclear style energy. Robert and Junior are shouting my name. Their war cries carry across the estate, but they're hunting in a whole other block of flats.
I light a fag.  
Waves keep comin.
Ghosts whisper a truth I don't wanna hear.
Can't be hiding for ever. Bound to get a proper beatin sooner or later.
And to make it worse, Tracey thinks I'm a creepy sex pest, spying on her when I was trying to protect her from the biggest retard ever.  
There's no chance of her speakin to me now.