A Murder of Crows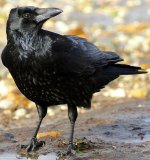 Mon, 24 Jul 2023
1 likes
A Murder of Crows
Clouds brood under dark skies
billowing black as coal dust,
hung low, pregnant with rain,
thunder rumbles like metal sheets
in a sound effects lab.
A murder of crows lined
along telegraph wire
watching the dusk fall
with their milk-lid blinks
seeing the first drops fall.
They scatter and flee,
searching for sanctuary
away from thankless elements,
white light splintering horizons,
lightening in saccadic shards.
Dispersed by murmuring winds
that blow in desolation,
across weather-beaten landscapes,
reminders of dreams where
a bird's eye can see into souls.
They haunt my memories
of long-lost, rustic visits,
forgotten times of solitude,
when the view from a window
was a reflection of my thoughts.
Caught up in childhood reveries
of mountains and lakes,
a place of fairy tales and lore
where nothing seemed real
except for the birds of the night.
Image free to use at: https://en.wikipedia.org/wiki/Crow#/media/File:Corvus_corone_-near_Canfo...