As Autumn Leaves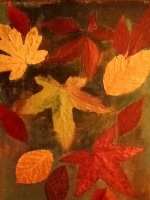 Mon, 20 Jan 2014
2 likes
Studying the veins of drying leaves -
the span of questioning hands,
I note with admiration, nature
painting vivid colour in order to make beautiful
the process of aging,
in hope of finding acceptance 
of eventual dying, crumbling,
and of being scattered on the ends of winds
to disappear beyond the corners of the world.
I find a rare example,
spectacular in swan-song glamour.
Gold, bleeding crimson to damson,
blending brightly pre-decay,
it begs to be remembered; to startle
the world into thinking it was something.
I lay it out with love
and smooth it between two pages of my diary.
Clean sheets, unsullied by comment
wait where there is nothing left to say or do
but slam the book shut.
Leaves preserving memories,
one day will be found and briefly questioned,
perhaps smiled at, then thoughtlessly replaced
upon a shelf to rot.
I thought I heard the sound of laughter gasp
from between the pages of my life,
but it was likely just the thought of farewell weeping
and of beauty being crushed.