Vocations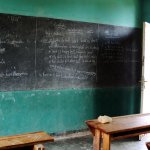 Sat, 23 May 2020
2 likes
Since vocation Sunday was coming up, Mrs Doyle thought we were old enough to ask the question, 'What do you want to do when you grow up?'
She was a tall, angular woman with dark hair shaped like a helmet and wore a scratchy tweed jacket and matching skirt, with a blouse and a gold crucifix at her neck. Mrs Doyle had been our teacher since infant school. She followed us as we progressed to more modern huts, separated by the newly tarred playing ground, and circled the old grey buildings like a wagon train.
Red haired, Linda Henderson, stood up and said, 'I'd like to be a teacher'.
'You certainly have the potential,' Mrs Doyle nodded approval.
'I want to play for Celtic,' said Alfie Murray.
Mrs Doyle chewed on her lip and waved a hand so that he should sit down.
We ran through the girls wanting to be shop assistants and boys wanting to work on ships or even join the army. Beaky Behan said he wanted to be a doctor, even though he couldn't count the number of thumbs on one finger and I'd once watched shit running down his inside leg because he forgot to ask to go to the toilet.
Mrs Doyle smiled brightly and said, 'Good for you'.
When it was my turn, I wanted to say I wanted to play for Celtic too, but that had already been used up. 'I want to be a bin man.'  
'Indeed, you will not.' She was quick to counter with a high voice and frown. 'The very thought.'
She brightened a little, with a smile of encouragement on her face when Ophelia McGee stood up.  
Ophelia McGee had long sandy-coloured hair,  was small and very pretty. I hoped because of her height, or lack of it, other boys in the class might not notice her, and I could marry her.
'I want to be a saint,' she declared with a beatific smile.
Mrs Doyle stopped and started and stiffened. 'That's nice. Maybe you could start now be cleaning the blackboard.'
Cleaning the blackboard was an honorary position made for Ophelia McGee and her impending sainthood. Waving away the numbers of long-division with the block of duster she was also cleaning away the chance of getting married. Saints remained unwed.
She was a lost cause. Taking Holy Communion weekly. Racing through the rosary with a glowing face of devotion. But she also went to the school disco in the blackend pits of the church hall and danced like the devil.
Every second song was Slade or Sweet, 'It's a Blockbuster'. And every third song Shawaddywaddy. She didn't even take a break from dancing to drink sugary blackcurrant juice through a straw, which was a bargain at under ten pence. Her, and a group of not so pretty classmates, huddled and danced themselves to frenzy as if they'd hips and tits, with tight skirts above the knee, showing the thin blades of naked legs. Making a point of ignoring any boys that approached with mocking laughter.  
I wasn't sure even though she was going to be a saint, if Ophelia McGee liked me. I thought about bribing her with pictures of black babies. She'd have them tacked to her wall, in the same way my annoying sister had cut-out posters of David Cassidy. Our school sold black babies by the box load, a penny a whip. Fill in a book and you got to keep one. We prayed for them too, the poor black mothers that couldn't keep their babies because they were black.
Catholic missionary priests had to go over and sort them out, big-time. They produced magazines that showed pictures of them smiling in the sun, white vestments and white teeth, with darkies in the background looking happy for all the attention they were getting.
I grew nostalgic for the Orphelia McGee that wasn't a saint and sucked the crest of her thumb when she was thinking of a really hard long-division problem. The solution was quite simple. I'd become a smiling priest.
We could bump into each other in the passing. Kneel and pray together. She could look after the black babies before we posted them away. Perhaps we could share an exhausted, chaste kiss. That wouldn't be too much to ask. God wouldn't mind.
Even if He did mind, I could hear her confession straight away. Nod my head in a rhythmic way so the chair creaked. Glance at her musty presence through screen, like a telly wrapped in a curtain, with a little block at the bottom, where we could hold hands.
Tell her, 'No, it wasn't a very great sin if she were to have a baby. She would get to see it all the time. And the blessing was it would be easier to pick out among all the black babies'.
She'd weep until her face fell off.
It would be my priestly duty to console her. I'd love her for all eternity. 'Under the Moon of Love,' it was just like Shawaddywaddy.
I could buy her things that would make her happy. Mass cards. Framed copies of the Sacred Heart and Our Lady of Perpetual Succour. Post them through her door, like Valentine cards in a brown paper bags.
The clunk of the duster being returned to the ledge on the side of the blackboard made me look over at her. Small and perfect, half way to being a saint. She clapped her hand, and chalk dust formed a halo into the air. Turning her head, she caught me gawping and smiled. She found an echo in my face and touched my desk in benediction on the way back to her seat.