Life, Love and Laughter!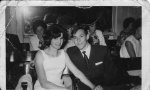 Mon, 16 Mar 2015
Life, Love and Laughter!         1212Words
I woke up this morning feeling fine not knowing that my life was about to change forever. It started off okay. Breakfast at the hotel, chatting with family who were also staying at the same place. We had all been to a party the night before.
It was lovely to see everyone although we have a family party every year but as we are scattered all over the country we perhaps only see some people at the annual family gathering. While at the party, my husband had a wonderful time dancing, chatting, drinking, all his favourite pastimes. I too enjoyed seeing everyone, but this party was not our normal Christmas get together in honour of my husband's mother who despite having seventeen children lived into her nineties. No, this was a birthday party to honour his eldest sister who was now ninety herself but ,sadly, suffering from dementia although she still loves a shindig. Despite her many ailments, having very bad legs and feet she was still up dancing with the best of them. The younger ones usually go off to a nightclub afterwards, but they would have to keep that a secret from her or she would want to go as well. That is the sort of woman she is. Wonderful! So full of life!
So it was a great night and one we will always remember but things were about to change. As I said, we breakfasted with other members of the family and then set off for home. In the car with my daughter and her partner, we were all chatting and eating wine gums; something we do on long car journeys. We stopped to have something to eat and take a break because it takes about four hours to get home; the party was in Essex, but we live in Lincolnshire.
Once home I started cooking the dinner; I had prepared a chicken pie and left it in the fridge ready for when we got back. My husband didn't eat very much and said he felt a bit sick. He was sick but said he felt better although he had a bit of a stomach ache. I made him comfortable with a hot water bottle and went upstairs to unpack. Then I heard a little thump and my daughter say 'You okay Dad?' With that, I flew down the stairs only to find the love of my life lying unconscious on the floor. I panicked and started blubbing the words I had heard in situations like this that I had seen on the television. Words like 'Stay with me, Derek, stay with me!' But there was no response, so I managed to pull myself together and realised we needed to get him into the recovery position. Meanwhile, James, my daughter's partner was phoning for an ambulance. I then sent my daughter to get a pillow and blanket. Not knowing how to do CPR I did what I had always done with a moribund puppy; I massaged his chest and heart area, and I heard him say 'Don't make a fuss.' The relief was overwhelming, and I said 'It's okay, darling, we've sent for an ambulance,' to which his reply was 'Oh, you haven't, have you?'
The paramedics arrived very quickly, but he was so poorly they couldn't move him so had to try to stabilise him on the kitchen floor. They said his blood pressure was so low they were amazed he was conscious and that he must be very strong. I said, 'For a man his size he had been extremely strong up until the last two years. Eventually, they managed to get him stabilised to the point where they could get him into the ambulance. My daughter shouted to him saying that we would be following.
By the time the three of us got to the hospital, a doctor was already treating him. My daughter and I were allowed to go through to see him but as soon as we got there the doctor asked the nurse to take us to the family room. Once there, we phoned my other daughter, and she was soon on her way. But it wasn't long before a nurse came in to tell us my Derek was gravely ill. They had resuscitated him once already, and they were trying to get him strong enough to take for a CT Scan.
Next thing the doctor came in and said the words I had been dreading. That they had done everything they could but he had gone. Although I knew he was gravely ill, those words hit me with all the force of a punch in the stomach. The three of us clung to each other, and we stayed like that for a long while. Next thing my other daughter arrived with her partner and my three-year-old grandson. Her partner looked after the little boy while the four of us went in to see my Derek, and we stayed for quite some time before finally leaving because the little boy was getting tired and fractious.
The next morning we were kept occupied informing people and sorting out funeral arrangements and that somehow got us through the day. There seemed to be so much to do in the days following that it kept us busy, and so we managed to get through this period too somehow. Derek was not a religious man, and for this reason we knew he would want a humanist funeral. We also knew what music he wanted, but the one thing he would not want was a sombre affair. So we set about organizing the Order of Service in the way that we thought he would like; a celebration of his life.
The entry music we chose was Celine Dion singing 'Immortality' and then the Celebrant kicked off with the poem 'Feel No Guilt In Laughter' and continued with a welcome speech. Then Derek's first piece of music that he chose was played, and it was 'Piano Man' by Billy Joel. Then, as I had written a eulogy, I wanted to have a stab at reading it myself but I was not sure I could do it. It's true I stumbled a bit in the beginning but one of my daughters immediately came forward to stand by my side, and so I was able to continue. The eulogy related some of the many humorous incidents that Derek was involved in and had everyone laughing. But that was nothing in comparison to when Derek's choice of music was played at the most serious part, 'The Commital' because everyone was shaking with laughter and tapping their feet. The music? Status Quo, 'Whatever You Want!' The exit music was 'Unforgettable' by Nat King Cole, as he was one of Derek's favourite singers.
And so I said goodbye to my wonderful, funny, unforgettable and irreplaceable husband, Derek! If, for over fifty years, you've given your heart to someone, there is nothing in this world that can prepare you for losing them. Looking back on that fateful day I woke up as Derek's wife but went to bed as his widow and that one single thing has changed my life forever.