Why Feminism - Me too?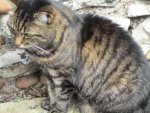 Sat, 17 Feb 2018
 Two nights ago I was kept awake by my neighbour battering his girlfriend. Today I was in my garden. It's all hunky-dory now and he is on the phone doing his blokey bit chatting to his mate on his mobile.
'yeh uh umm maybe pop round tomorrow um not sure.' And something about a child's birthday party, they have a small child.
I didn't call 999. Because it 'wasn't that bad.' There was banging and yelling but it didn't sound like she needed emergency surgery.
They would HATE me if I got involved. I'm 35 years older, I own my  terraced house. They rent. And the authorities do 'multi-agency working.' If they have a social worker that phone call would get passed on. Another meeting. Another black mark on their record. I would be that miserable old bag who got them into trouble. I'm not but I'm cynical. Why can't they keep their Punch and Judy show  until 5.30 am when I leave for work. 
But let's leave all the nightmare reasons for feminism and for why 'me too' isn't called feminism to you. What I want to talk about is one or two of the whys before the now.
Why does awareness of women's rights, the right to vote, the right to be free from sexual harassment come in waves? Sometimes we're always on the news, always having the debates, sometimes it all goes quiet. Is 'me too' top of the pops newswise simply because we've all had it to here with Brexit?
I told you I was cynical. And rather than celebrating the centenary of married, property-owning women over thirty getting the vote why not have a birthday party for Greenham Common while the protesters are alive.
I'm old. Being old means having time to think. I used to be an unpaid worker for Stirling Women's Aid helping with the office, the refuge and the phoneline when I was expecting my first child. I had left her father. I lost him on purpose after my second change of address and my training sessions verified the wisdom of my move.
We ran the phoneline, after the office closed each day, from our homes. My first night on the line was scary. I tried to nod off on the settee of my shared cottage in the middle of nowhere, surrounded by bright growing crops. Belly out to here in front of the telly, my daughter wriggled from side to side when she heard the familiar theme tune from Eastenders. 
The phone rang. Thank g-d it was something I could fix! The call was from the refuge. The hot water had gone, seven women and twice as many babies and children were left with cold. I phoned an out of hours plumber.*
There has been plenty of research done on domestic violence, some by two sociologists at Stirling Uni. A married couple. Their names – Russell and Rebecca Dobash (!).
One thing that interests me now is why do some men not batter their women? One book told me domestic abuse comes from a toxic grid of expectations:
'Male expectations of authority over women
And
Male expectations of services from women'
This explains workplace sexual harassment too. And at home it isn't always men who are the aggressors, sometimes it's women. Or stroppy teenagers terrorising their mother, expecting her to be a servant and piggybank, rewarding her efforts with insults and squalor. Or the person who moves back in to care for a frail old parent, and finds they can't cope.
Domestic abusers always say 'sorry'. Often they speak from the heart. And it will never happen again. Lovey, dovey, huggy, kissy. Until the next time.
Workplace abusers  deny everything.
 So depressing. Why am I ranting on when the sun is out and the days are getting longer?
Perhaps men who do not batter or harass their wives or their junior staff are men who have all their expectations met. Or maybe they don't expect too much. Or - breathe deep and take the 'big' view, perhaps 'people...'
I can tell you, if you remember my earlier question about  why feminism 'comes in waves' the reason the second wave of feminism, the one I was active in, powered down after a long run, from the early 70s to the late 90s. It was voluntary work. Hardly any of us were paid and we got tired.
Bye now. I've got a non-violent man down the road and he's cooked us Mulligatawney Soup. And yes I am still a feminist. Me too.
-----------------------------------------------------------------------------------------
*If we had left a list of emergency phone numbers at the refuge the women living there would have been able to call the plumber. Isn't hindsight great?