The Forest of Discarded Raiment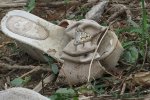 Fri, 05 Aug 2022
5 likes
In the forest of discarded raiment,
Raymond's puffa jacket is puffed out,
exhausted - hanging from a tree by its sleeve.
But this is not the most disturbing sight,
white is glimpsed at the side of the track:
who goes home without underpants?
With a solitary sock, or a single shoe?
You would not do it, I could not.
What possesses them, those whose clothes
are surplus to requirements and offered,
proffered to the god of mischief,
hidden between the birch and larch,
arching eyebrows and laughing in the silence.