A Belated Craven Christmas Carol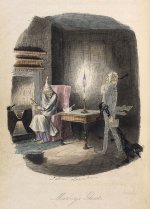 Sun, 29 Dec 2019
1 likes
"Marley was dead, to begin with," said Betty. "There is no doubt about that. The register of his burial—"
"I wish they'd of buried that story right along with Marley," said Craven. "Why do you insist on reading that crap to me every year? Ghosts don't make any sense to me, Betty. Past, present, or future. Especially future. Dead is dead. You get the one chance. You blow it? Well, that's on you. Some people are born stinkers and the same people die stinkers. There's no coming back to buy the big, fat goose that's in the butcher's window to save Christmas. All Bob Cratchit had to do was to bank all his two pences and get his family on a steamer to America. A few months in the Florida sunshine woulda straightened Tiny Tim out in no time. Why would any one wanna live in gloomy old London when they could be reaching out their window plucking oranges right off the tree?" 
"And why would any one work for a tight wad who don't give Christmas bonuses and who doesn't pay his most valued worker a decent wage?"
"Why does everyone gotta pick on Scrooge? I know he had his faults, Betty, but business is business."
"I wasn't talkin' about Scrooge, Mr. Danger. Every year you get that bah humbug look in your eyes. And it makes me wanna knock the stuffin' out of you and your miserly pockets. Me? I'm gonna call it a night and get myself a good night sleep. It's Christmas tomorrow and I got my own goose to cook. I was gonna ask you up to my place for an egg nog, but I think I'd rather slide into a nice hot bath with a good stiff drink, and a rubber duck that's got a better personality than any of the men in my life at the moment. And don't fall asleep at your desk eatin' that stick a pepperoni. You'll give yourself indigestion. If you do make yourself sick, there's a bottle of Bromo in the top drawer of the file cabinet from that time you attempted suicide with the week-old hot tamales. And, remember, it's never too late to change your stripes. Christmas is always just around the corner. Feliz navidad, amigo!"
Ah, Betty takes this Christmas stuff way too serious, thought Craven. What do I need with Christmas? I need a nap more than I need Christmas. This pepperoni is making me sleepy.
As Craven Danger dozed and drooled at his desk, a spirit of the night took the opportunity to whisper in the miserly detective's ear.
"Christmas ain't a need, Mr. Danger," said the spirit, "it's a state of mind."
"What the— Who said that?"
"I'm a Christmas ghost, Mr. Danger."
"Which one?. Past, present or future?"
"None of those. I'm the Christmas Ghost of Lost Causes."
"Where are those other ghosts?"
"They ain't comin', Mr. Danger. Why would they? Everyone knows what a stinker you were than, are now, and will continue to be in the future. I'm all you'll need at the moment. Those other ghosts may have given up, but as the Christmas Ghost of Lost Causes I see a glimmer of hope in those beady eyes of yours."
"I suppose you want me to step out onto the fire escape so we can fly off into the night and you can show me all the wrongs I done."
"Whaddaya nuts? It's freezin' out there. We don't even have to leave the office for this one. This is 1947. We're pretty advanced these days. Why fly off into the night when we got radio signals."
"You get radio signals from the future."
"Shhh. That's our little secret. You got a radio?"
"Of course I do."
"Turn it on. Channel 1700."
"There's no 1700 on the dial."
"There will be tonight. Now be quiet and listen."
Good Evening and welcome to Heaven's Gate Theatre. Tonight's episode of Craven Danger Stinks Up Another Christmas is brought to you by the good folks at On a Wing and a Prayer Salvation Company. Doing their best to make winners of all the lost causes roaming the earth. 
Tonight's episode: Craven's Goose Gets Cooked.
Scene one: Christmas-goose dinner at Betty Feltcher's apartment.
"I hope you like what I got you this Christmas, Betty"
"This box is empty, Mr. Danger. What gives?"
"It's a box full of wishes, Betty. You can wish for anything you like. I thought of it myself. And the box only cost me a nickel. Go ahead, Betty. Make a wish. The only limit is your imagination!"
Scene two: The ambulance.
"How'd this one get a goose leg stuffed down his throat?"
"Beats me. Hey, wait a minute, there's Christmas wrapping-paper stuffed in there, too. Whoever it was that roughed him up sure as heck didn't have any Christmas spirit. We better get him to the hospital quick. He's getting all buggy-eyed. The poor sap."
And that concludes another episode of Heaven's Gate Theatre. Tune in next Christmas to hear how Craven Danger stinks up another Christmas. Good night, and God bless us. Every one!
The Christmas Ghost of Lost Causes turned off the radio and faced Craven Danger.
"Anything to say on your future behaviour, Mr. Danger?"
"Yeah, I sure do. Maybe, instead of a box full of wishes, I give her a box full of me. Much better, right? Christmas ghost? Where'd you go? Hey, don't vanish on me like this! Get back here! At least tell me if I can still get my nickel back on the box? Christmas Ghost? Ah, c'mon, ghost, where's your spirit? Oh, yeah? And a bah, humbug to you, too!"
Picture courtesy of Wiki Commons: https://commons.wikimedia.org/w/index.php?title=Special:Search&limit=20&...'s_Ghost_-_A_Christmas_Carol_(1843),_opposite_25_-_BL.jpg