Anthony and Cleopatra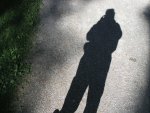 Wed, 22 May 2019
Some days it's all a blur; people are a blur, the weather blurs sun and cloud, windless air and blurred voices carried on the breeze, the blurred whirr of a busy thoroughfare and then the silence.
Night can come as a surprise for Anthony. He blinks into a sway upon his seat bones, reclines into whatever angles meet his mangled frame and stifles the fuzz blur of his pain. It's the silence that wakes him and Cleopatra's smile, calm and serene.
'It's okay Anthony, I'm here. You are safe, we are safe.'
He rubs his eyes and glances at the hat, there are only scattered coins, the wage they pay for battered street souls conjoined. The money goes into a pouch and he puts his arms around Cleopatra's stocky sitting frame and holds her close. The doorway is their home, the blankets are a couch and they sit too long for this world to flit between the nights and days sucking up the view into their eyes until it fades. The two of them are drained, they know that they could disappear like every man and dog who sits the same and never seeks a scene of change.
'Let's have a walk,' he says and shuffles up in stages, one, two, three and up into a stiff stand, sweeps his bag and blankets from his land.
Cleopatra needs no rope or tether, she never leaves his side, they're spirits tied, now and forever.
He checks who is around, bad shadows hang around like clouds, in heavy frames, they drop out of the dark and into view, cause Anthony to start.
'Alright, got a light?'
Cleopatra eyes him with suspicion, he's known to them, scary scar face, missing teeth, de-clawed, a monster at first glance, inside he is a kitten. Anthony fiddles in his bag and pulls matches from a sleeve and holds them out but the monster shakes his head. 'No! Got a smoke?' he says. The answer's no, they leave and the matches are sucked up once again into their dusty home up sleeve.
They head down to the water's edge, the green and glittering river which under clear and starry skies emits a dainty shimmer. Silent swans asleep in lumps upon the bank, they dream about the stage, perform a gliding dance to crowds who clap and throw crusts which make their bellies cramp. Cleopatra is hungry and occasionally a blood thirst slithers like a snake inside her throat and tickles her, to scratch this itch, the urge to kill is like a switch. The swans so vulnerable and prone, too easy now to take a neck it seems, besides these feathered ballerinas are the Queen's.
In town there are some bins which lie like whales with mouths so full of krill they hang agape with tasty food that any hungry soul can take. Anthony is picky with his food, the sandwiches and rolls are fresh, he looks for those with meat inside for Cleopatra can eat anything but mostly as a carnivore she thrives. Somebody has been already taken all the best and left the stranger things behind. 'You didn't wake me in time,' says Anthony.
'You were fast asleep, I didn't want to be rude.' Cleopatra says and leads the way, following her memory map of food.
To the high street where heels and legs and lairy lads push and shove with loins fired up for love and wallets primed to drain whatever price to tell themselves that they are entertained. Anthony takes his coins and counts but loses count, the copper discs and tiny silver bits are eighty nine, a hundred and five, whatever it is, the cost to stay alive. 'There you go mate!' A stealthy fiver thrust into his hand by a stranger who for that second seems to understand.
Anthony hides the note away for creatures of the night, they watch and lie in wait, they say they're one of us but like squirrels they are never shy to steal your nuts.
'Cleopatra?' he says, 'Shall we get burgers?'
The ebon staffie knows the word and stifles her excitement for so many times, so many promises she's heard were broken now to never get worked up she's learned. Although she licks her lips and waits outside the joint, flops down, nobody bothers her although there's other dogs around.
Anthony stand in line and feels ashamed for unwashed hair and skin among the normal folk is what he feels to be a crime. 'Two burgers please,' he says and pays for it with charity, he feels it with a niggle. Often with crimps of hopelessness and failure he is riddled for this was surely not his fate. The next minute always awaits and so does Cleopatra with her raven fur and loving smile, she lives for him and him for her.
Back to the river they head and to a hidden bench to eat in peace. For now two sated stomachs their relief and then back to their patch. Scattered blankets on the ground and the calm heartbeat of a gentle dog the only sound. Anthony tells aloud a whispered tale of when he had it all to live and slides the matches from his sleeve. He smokes, the red dot like a beacon for his hound who eyes it from the ground and blinks into her dreams. This enclave is their home, their dreams are their escape until the morning triggers their awake, together they are safe.