The Great and Secret Show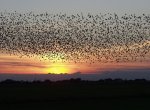 Tue, 17 Jan 2023
2 likes
The Great and Secret Show
She says let me show you a secret
and takes me by the trusting hand,
we sweep over upland meadows,
mossy dew kissing uncloven feet.
Sunbeams glint through branches,
rhombuses of light thrown on bark,
sprawling woodland; meandering
trail traversing bushes and trees.
Red-chested robin sings sweet arias,
russet-coated foxes stalk diurnal prey,
leaves skittering like snowflakes,
wind-chimes for windswept souls.
Skirting briar, bramble and thorn,
sounds of water babbling close by,
a brook with bed of flat pebbles,
cranes hover in the corner of my eye.
There, far across the hidden lake,
high above a bank of silt and mud,
a living mosaic swirling, dancing,
singing avian hymns in indigo skies.
We stand, stare and pay homage
to an amalgam - feather and bone,
as she cups her hand to my ear
and utters in reverential tones
behold: a murmuration of starlings.
Image free to use at: https://commons.wikimedia.org/wiki/File:Sort_sol_pdfnet.jpg