Kabul Airport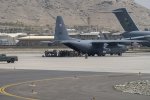 Tue, 24 Aug 2021
1 likes
https://www.independent.co.uk/asia/south-asia/afghanistan-latest-kabul-a...
https://www.fr24news.com/a/2021/08/children-orphaned-as-their-parents-cr...
She herds her children through detritus,
an unrepentant Afghan sun beats down,
his shemagh defends him from dust,
a worn salwar kameez his mark of origin.
Another impromptu checkpoint - held,
in desperation they barter and plead,
dark eyes stare from beneath a turban,
Kalashnikov holds court, arbiter of life.
An exhausting journey end nears,
chemical trails of planes overhead,
a notion of freedom fleetingly tortures
victims with an elusive mirage of asylum.
Masses throng and block the gates,
air extinguished by a searing heat,
a supplicant sways, staggers and falls,
her prayer lost in a no man's land of despair.
A soldier speaking English - concerned,
checks – navigates to the sanctity of roadside.
He understands, empathises and laments,
one more crushed dream in a faraway land.
One of many.
Image free to use at WikiCommons https://en.wikipedia.org/wiki/Hamid_Karzai_International_Airport#/media/...