The Last Time I Saw Fungie (2005)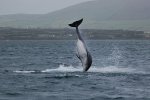 Thu, 25 Mar 2021
Cumulus clouds rolled across Celtic, Irish skies,
white horses crested cyan waves - chopped, rose and fell,
a streaming wake trailed, leading back to shore
as our weather-worn, tourist boat traversed Dingle Bay.
Crowds clamoured at junket sides – aft and fore,
scanning, peering, searching for flipper and fin,
it was then that Fungie the bottlenose appeared,
emerging triumphantly, breaking the surface with a grin.
This lone showman played to his human gallery,
whoops and cheers, children's smiles and tears,
this most majestic of mammalian royalty
at one with gatekeepers of a briny wilderness.
The skipper and crew tracked our aquine friend,
cameras clicked, fingers pointed, water thrashed, crashed,
seagulls chattered to other sea birds above the surf,
watching over the symbiosis playing on the swell below.
These memories light up my soul from days past.
Time marches on, waits for no man or beast,
even dolphins have their allotted span when
this friendliest of creatures will no longer visit.
Fishermen speculate whilst drinking tin cups of rum,
sombre shop keepers lament the absence of Kerry's jewel,
maybe their companion from the deep has swam on.
So many await his return, watching, praying
that God and nature grants them one more wish.
https://www.irishpost.com/news/fungie-the-dolphin-to-be-honoured-with-memorial-event-in-2021-199269
Image free to use at https://commons.wikimedia.org/wiki/File:Fungie_(1483877277).jpg