New Amsterdam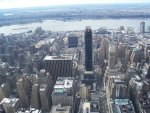 Wed, 03 Mar 2021
Our electric train glided to a stop,
humanity spilled onto waiting platforms,
worn stairs signposted sidewalk Heaven,
steam rose from polluted Subway grates,
thronging multitudes of newspaper carrion.
Spring had unveiled its cherry blossom face,
neon-lit diners perched on intersection corners,
hot dog vendors shuffled dollar change,
stores huddled under high rise monoliths,
sirens wailed, senses overwhelmed, mid-town mayhem.
Grey, slate skies circled 34th Street,
Metropolitan gateway to steel and glass,
we stood in a lobby of filigree gold,
iconic tower of rivets and dreams,
stories built in blood, scraped skies.
Standing on the roof of the world,
an icy breeze caressed our brows,
majestic rivers dissected urban sprawl,
a panoply of sound and motion,
boundless horizons of an Empire State.
It was a yellow cab we hailed,
darted through shoals of iron,
dropped at the jetty, Staten Island Ferry,
to traverse a harbour hinterland,
first sight for countless emigres.
Standing at the copper feet of Libertas,
shackles broken, symbol of freedom,
we lauded her regal torch held aloft,
for those who would be emancipated,
no longer prisoners of our souls.
*Image is my own