A Tempest Off Portishead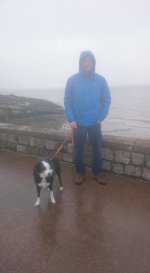 Mon, 21 Feb 2022
2 likes
Audio version at https://soundcloud.com/user-62051685/a-tempest-off-portishead-mp3
A Tempest Off Portishead
Thunder cracks a sombre sky,
tendrils of lightening splinter
like panes of shattered glass,
savage sea waking, stirring,
winds whipping spume, spittle,
as rolling, wild waves crash
against desolate harbour walls,
spilling over barriers onto land.
Silent, solitary egret observes,
sitting perched on mossy rocks,
its throne of Canute, a metaphor
made from basalt and brine.
A tempest to cleanse this earth
and purge waters of detritus,
storm soon lost, tears in rain,
dissipate to ether - elemental ghost.
Picture is my own from 2018 in Portishead – me and my beloved Skye Woofer