Pigeon Variations - Ch 4 - Hero Grill Chef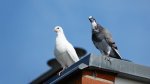 Fri, 27 Nov 2020
The hotplate was vicious. Pyser had a shift with Phil one night. Phil was doing the usual. Two greasy wooden sticks to flip strips of chicken, pork, beef, fish, whatever the customers had given them in a bowl to cook.
Phil poured on the sauce and pulled his hand away sharpish to avoid the burning steam. He chatted over his shoulder to an elderly couple. The lady wore a flowery dress and the man had a short sleeve shirt tucked into his cheap chinos. Caravan cunts fake laughing about family holidays.
Phil was dreamy on heroin, drinking coke which had been topped up with dark rum by one of the waitresses. Pyser, on the other side of the hot plate, was pissed and chatting to his own customer, a woman in her early thirties. She wanted to know about Pyser's life. It was her third bowl from the buffet bar and she made sure that she was served by Pyser. "So, do you have a girlfriend?" she asked. He looked at her and checked whether she had a ring on her finger. It was a pity she didn't. He was going through a phase where he preferred married women.
"I'm single."
"I don't believe it." She smiled, trying to flirt.
"But I'm a romantic at heart so I believe I'll find the one," he said.
"Me too, although the ones I find tend to be jerks."
Phil suddenly made a high-pitched yelping sound, flinging the sticks across the hotplate. Pyser jumped sideways to dodge them.
"Fucking Jesus Christ," cried Phil.
It turned out he had been so busy shooting scag before his shift started that he had forgotten to remove his cock piercing. The hotplate was groin height and the piercing was scalding the skin off his cock. He shoved a hand down his trousers and lurched out from the cooking station. "Get out the fucking way," he hollered at the Saturday night customers, who were standing in line with their bowls.
In the kitchen, Phil shoved the Italian kitchen porter from the sink, pulled down his trousers and Calvin's and hosed cold water onto his massive dick. The restaurant owner, Pete, burst through the swing doors into the kitchen. "What the fuck is going on here?"
"Not now," said Phil, standing in a puddle of water, hopping from foot to foot as he dowsed himself.
Pete wasn't impressed by Phil or his cock. "Don't talk to me like that you little cunt. What the fuck do you think you're playing at?"
Pyser was left to cook all the meals for a packed Saturday night restaurant. Pete told the punters what happened, laughing and joking, saying he'd sent Phil to hospital when in reality he'd physically thrown him out the back entrance and said if he saw him again he'd be fucking dead.
On the plus side, Pyser was treated like a hero. The waitresses topped his cokes up with the best booze. The customers insisted to Pete that their tips go to Pyser. The woman in her thirties gave him her number and said he should call her when he finished.
"I'll wait up," she said, giving him a drunken wink.
He was supposed to go home with one of the waitresses. He decided to give her a call instead. Her name was Anne. She was a teacher and she lived in a two-bedroom flat in Kemptown.
Pete paid him in cash at the end of the night, giving him Phil's shift money.
"You did well," he said.
Pyser bought booze, fags, some sniff, and went back to his house-share, packed what he could and then took a taxi to Kemptown.