Love is a Labour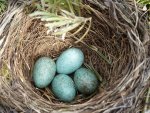 Thu, 23 Jul 2020
1 likes
I wanted to write a poem about a blackbird so I was reading blackbird things and strayed across what must be a very famous tale about St Kevin and then I looked that up, found the Heaney poem and thought I would write this as a kind of (poor) response to it. In two minds about sharing it. I know that I am very ignorant for not knowing the story or the poem, but well, there we are. Here is Heaney reading his poem: https://m.youtube.com/watch?v=wKGmQcSFbMc
In the absence of a tree,
hedgerow or suitable shrubbery,
a blackbird will nest in a saint's soft palm,
heat constant in the circulation 
of blood to willing fingers.
The conditions of life and renewal
can be answered in a hand, open -
even to the blue-green secrets 
of an egg; every hand that has clasped
another's knows that life is delicate, 
that love is vital.
A blackbird's song is held
by the wind too, and bound to it
whilst it sings itself into a quiet autumn,
a boundary called to exhaustion 
in the toil over fledgling 
after fledgling.
A blackbird consigns its ouzel thoughts
of new wings and conversations 
with the dead to the hollow
of winter when there is time,
when the air is thinned and permeable,
a blackbird does not need to be a saint
to understand that love is a labour
and that love is as urgent as it ever was.
Image is from pixabay.