Trout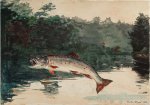 Sun, 11 Apr 2021
1 likes
There is a seethe
where two currents meet,
and girdled by water,
a trout feels the river.
Breathe, swaddled
by mist, soar, and 
in the silence of time,
be in the freedom 
of joy, of inner flight.
When the moon rises,
lily-white, these fish
feast beneath stars,
though a trout is a fool
for a mayfly - we are all
a fool for someone - and
leaping, he speaks
his fishbones, sharp 
words for daylight
and the hatched crescent 
of a mayfly; long-tailed,
short-lived, but being
both ancient, are lost 
to the struggle 
of the honesty, the fullness
of an imperfect world. 
 
Image is from here: https://commons.m.wikimedia.org/wiki/File:Winslow_Homer_-_Leaping_Trout.jpg
Also on Twitter: https://commons.m.wikimedia.org/wiki/File:August_Schaeffer_-_Alpine_Lake.jpg
https://commons.m.wikimedia.org/wiki/File:Jan_Sadeler_after_Maarten_de_Vos_Heron_Mayfly_Flying_Fish_1587.jpg