The Wanderer or The Exile's Lament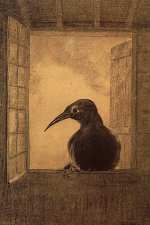 Thu, 31 Mar 2022
2 likes
I have been reading the Old English poem, The Wanderer, which Tolkien would have liked to have been renamed The Exile's Lament. I suppose this is my response having spent time reading several translations of it. Was especially struck by these lines, '(One) weary in spirit cannot resist fate, nor (can) the troubled thought (mind) afford consolation'. (Trans. Robert E. Diamond) But I really like another take on those lines...'Can a weary mind weather the shitstorm? I think not. Can a roiling heart set itself free? I don't think so.' (Trans. Aaron Hostetter)
Who carries the old words
of the dead? Quiet --
for my ears are closed to them. 
 
They say a raven could carry a man
off a battlefield, could bear the weight
of death. I can believe it,
they are birds of exile, some, even 
wanderers of thresholds. 
 
Transience is for the lost 
or friendless, when purpose or
meaning has expired, 
when we regress to invocations - 
prayer to paper, paper folded 
and placed, neat, beneath a stone.
I throw a coin into a fountain,
mutter wishes to the new moon,
but I cannot find the home of God.
And I dine on rhetorical questions, yet
belly empty, heart, a witch flower, love 
like frost, a lamb resigned to slaughter.
Raven's foot and raven's leek
are pressed to war wounds, and 
afterwards, the confrontation of change.
I am Winter, my face swan-pale.
Who speaks? Croak. 
I have stayed here too long. 
Image is from here: https://commons.m.wikimedia.org/wiki/File:Redon_the-raven.jpg