What is Buried at Thresholds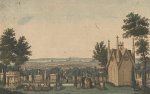 Thu, 21 Oct 2021
Third of four poems for October on a dark and ghostly theme.
I wept for ninety days,
until birds fell 
from their branches and
cattle dropped dead
where they stood in fields.
I did not sleep for ninety days,
until I had gathered 
every scattered bone 
and every word of every woe.
At night,
a father presents his amulets,
a mother bangs pots,
ushers in the magpie men.
And I tear at my flesh, 
and tell them the darkness
of secrets, of what is buried
at thresholds, they misunderstand 
with their holy water, 
and anointing me with oil,
speak the names of angels
backwards and forwards - 
the scripture 
of incant and recant. 
Painting is from here: https://commons.m.wikimedia.org/wiki/File:Courvoisier_-_View_of_Pere-Lachaise_Cemetery_from_the_Gothic_Chapel_(cropped).jpg