Night-flying in North Wales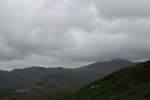 Tue, 11 Apr 2017
1 likes
In daylight 
the sleek, black, gleam
of wing
flashes above slate tiles
tilts
and slips into a gap in the mountain.
Later- you look up past a neighbour speaking
of how good the blackberries were last autumn
into the face of a pilot
in a heavier machine - war-green
it hangs for a moment
they shake you.
At night
under covers
under darkness
you hear them
screaming above the warning of an owl 
making preparations.