Near Titley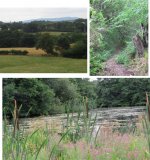 Thu, 04 Aug 2022
2 likes
Path mown through the bracken,
up the slope, over the humpy field
– sky so large –  
cross stubble field,
then down woody shady tunnel –
gate on left, to reach the lake's
near corner –
quiet calm watery cul-de-sac.
No grebes or heron, or king-fisher today,
bulrushes, water-lily leaves and stillness.
Backtrack, now seeing the southern views
towards the hills.