Cause To Be Heard on Samhain's Eve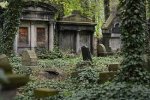 Sat, 29 Oct 2022
1 likes
When night proclaims its vital
force this Samhain's Eve;
we'll walk in silence through
our ancestors graveyard,
where Yew trees stand watch,
demise of emotions filling
senses; as wild drifting ivy
creeps tombstones and walls,
sometimes apparitions appear
in shadowy form...emanating
from earth that's filled with
textures, where worms and
insects slither and crawl;
they know souls return
where misty shroud's
unrestrained.
Harshness of skin consumed;
past memories clinging where
clegs swarm immorality, and
every coloured leaf found in
Autumn gathers where tree
roots share secrets.
We must show respect for the
fallen loved ones that cannot
rest; unsettled spirits carrying
weight – the stillness of bygone
times incomplete, life taken far
too soon; many souls in limbo,
only formless soft breath moving
in ardent light's flow is seen by
Rook and Crow...they are both
dark as night detecting chilling
spectral shiver, silhouettes slow
moving; where spiders feel uneasy
brush of air through fine webbing.
There's no moral code here;
fear does not rest, ethereal
shadows chant their torment
needing to be heard, as desires
across time become whispers so
seldom heard.
Pixabay free image.