That Christmas Feeling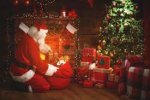 Fri, 24 Dec 2021
1 likes
Just a little poem for the young at heart, and
to wish everyone a Merry Christmas and a
Healthy Happy New Year. 

Down every lane amid twisted ivy splayed on
evergreen; blushing holly berries welcome
foraging birds and creature that can't be seen.
Hear resounding peal of church bells filling
chilly air, a flight of joyous welcome, as fairy
lights wink in homely warmth, and in the
darkness of Christmas Eve haunting shadows
cast by candlelight on this twinkling starry night.
Like in days of old where hung the mistletoe;
tender kisses...glasses raised, wrap surprises
with crimson ribbons neatly tied in bows; then
like ravenous hungry squirrels, secrets hidden
without a sound.
Before dawn rises sweet juicy glimpse of sweet
clementines, young children longingly express
excitement with dimpled rosy cheeks, show
pleasing glances at stocking filled with delights
to eat,
no time to dream on Christmas morn, when
magical visions and tasty aromas abound;
laughter captured while favourite music fills
the air with sound.
Later on families sit down to a feast that is sublime,
with crackers pulled and tummies full, mums and dads
are of good cheer, peace at last is now restored;
sitting round a roaring fire before to bed sleepy heads
at this late hour. 
When all is quiet in the house mice come out to
pick up crumbs...their nibble of good cheer,
then scuttle off across the floor, before entering
skirting board once more they veer.
Pixabay free image.