Dreaming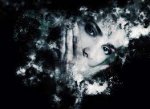 Wed, 29 Mar 2023
Dreaming readily even
through darkest hours;
I cross over with just
sight to guide the way,
a phantom unseen,
going where vision leads;
taken by breath of air,
psyche conveyed in rain
that pitter-patters along
country lane, with such
serene movement advancing
on, contentment a magical
companion;
harvesting surreal visitations
for my soul, not knowing the
way to go; but swiftly guided
in the blink of an eye, whisked
away in new direction;
showing a different awareness,
visualizing manifestations that 
unite on another plane and are
surely merging,
suddenly roaming between rooms
in lonely aged dwelling; secrets
held within walls, home of memories
veiled in dust and cobwebs that
connect the past.
Looking up wide staircase of this
once happy home; staring eyes in
old portraits hanging seem to hold
the truth,
Paintings of young giggling
Victorian girls with their dolls
hang by the stairs, I'm mindful
of their playful pose; with long
blonde ringlets hanging in curls.
But in the silence of this auspices
moment; I see only reflections
lingering of a loving family,
now old age and death only
leaves its mark in ramshackle
of neglect, extracted from their
recollections, as bygone days
resonance mingles with my own.
Pixabay free image.