Glad To Be A Baby Boomer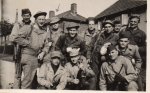 Wed, 31 Oct 2018
Dear diary Remembering.
At this time of Samhain when thoughts go out to the loss of loved ones, I want to light candles and especially remember mum and dad, but also send out loving thoughts to those that lived through those terrible times of war.
Sirens blared out that night of 2nd November 1940, over what must have been a panic stricken city, as the blood-curdling drone drifted through the atmosphere, a sinister warning of what was to come.
Bleak images sit in my mind when I remember mum telling me of being huddled under the stairs with gran, granddad, sister and two younger brothers, while overhead the terrifying sound of bombers flew across dark sky tainted with their destroyers, it leaves me with sinister thoughts of how destructive war can be and how glad I am to be a baby boomer.
Mum lived in Bower Ashton just on the outskirts of Bristol city, close to the suspension bridge and Ashton Court. Their home was an old Coaching house leaving them well away from the descending, highly explosive bombs...they were the lucky ones.
Mum told me the sky was lit up with flames rising like dragons breathing fire across the city, she was only eleven and terrified as granddad tried to keep them calm while the booming continued, telling stories of mystery and intrigue...strangely enough he was born in July, the same as me and was blessed with an imagination.
Bristol was now left in devastation, old buildings blasted to the ground, a lost city unable to cope, as hospitals worked around the clock tending to the injured. Then there were the brave firemen who risked their lives.
Imagine loosing everything you've worked hard for, feeling the grief of the injured, or even worse lost loved ones, some never stood a chance. It must have been devastating hearing of wasted lives, where innocent men, women and children just happened to be in the wrong place at the wrong time.
***
Then there was dad who at just ten on that dreadful night again thankfully lived even further out of Bristol city. He shared a council house in Sylvan Way, Seamills with his four brothers, sister and mum and dad. To think that at this point mum and dad's lives hadn't crossed and they had no idea that the other existed.
It was the Spring of 1944 as G I'S were billeted on Sylvan Way Seamills, courtesy of the U S Army in preparation for the invasion of France.
Patti Patierno third from the left in the photo became good friends of my dad's family and especially dad's sister...my Aunty Jean.
As I see it, many strong relationships must have come out of the war, where men and women lodged at houses and built up strong bonds, though I often wonder how many actually kept in contact by letter after the war, distance being a big problem.
There isn't a day goes by that I thank my lucky stars that I've lived through peace times. My dad joined the army in 1949 and did national service grateful he was too young to go to war.
Let's hope we never have to experience atrocity's of such terror, let us not forget how lucky we actually are. Let us hope we never have to go through what they did.
Love...Peace and Happiness to you all.
Photo's my own.