If Not For Love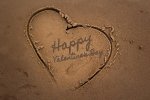 Sun, 09 Feb 2020
Delicate and fragile our
dreams have become Yet!
You've always been there
even during wildest storm,
as sound of gales remind
me of crashing waves.
Remembering treading
endless roads and lanes,
leading to clifftop hikes?
Our memories are treasured
like those surging shorelines
walked through frothy white,
skimming pebbles
in smiling coves,
observing whiplash
upon Cornish rocks:
fishing boats anchored,
bobbing freely, anxious
to be away as gulls wing
their way on breezes...we
too with such freedom fly.
Now those concealed shadows dim,
curtains will never close on the flame;
they will always burn extra bright
for you my darling Valentine.
To the one I love who is my soul mate.
pixabay free images.