Passing Time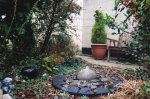 Thu, 14 Apr 2022
1 likes
Dear diary...it's the second week of
April, seems like winter's heavy
storms and whistling winds that left
trees with no dignity have finally
vanished, now limbs no longer
twitch and dance; swept here
and there while gusts took control.
Peaceful calm's restored, soft
trickled murmurings from radio,
an Archers episode plays out,
becoming a muffled part of
afternoon life in our garden.
Crows caution is passionate,
waiting for hazards to pass;
impulse is to feed, flinching
ready for taking flight when
sounds of danger are in sight,
perching on neighbour's roof.
"Caw! Caw!" They cry out;
"It's safe now," flapping back
down to earth, they return.
Parallel glances from pigeons,
seems to me they all look alike...
not being a pigeon expert,
waddling along with dignity
till suddenly spooked!
That sudden fear creates
interspersed beating of wings
that take flight, seen and heard
in sky resonating.
Does blackbird care? Certainly not,
he's too busy shaking tail feathers,
splashing around in birdbath:
showering sparrow and robin
on grass below with gusto,
to notice any commotion.
This garden is a pleasure to be in,
surrounded by so many sights
and sounds, that leave me smiling
with delight, as I sit here passing time.
Photo's my own.