La Femme d'argent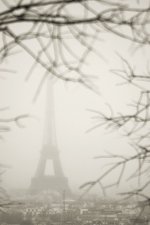 Wed, 20 Feb 2019
How could I forget the autumn of 1998, and that weekend in Paris?  A sullen, funereal mist folded around the city for the entire three days, fallen gold-and-brown leaves sticking to the soles of our shoes as we walked along the Quai de la Megisserie, gently mocking the efforts of the street artists lining the pavement. We climbed the Eiffel Tower, only to see nothing but a blanket of spectral grey from the top. Later, we stumbled down the steps from Montmartre, guided by the muted sallow glow of sodium lamps. It was romantic, I suppose; the soundtrack that November weekend was Air's 'La Femme d'argent', a melancholic paen to a woman who slipped through fingers like mercury. A ghost, maybe.
Yes, it was romantic. I suppose. It was up to me to make it so – not an easy task, by any description, at least not for me. But it was Victoria's 30th birthday, that curious celebration of being not-old, but old enough now that life must take a necessarily serious turn. In secret I booked the tickets, arranged the hotel (a tiny place in the heart of Le Marais, no breakfast) and did the whole 'now-shut-your-eyes-and-guess-where-we're-going? routine as I steered her towards the waiting train at St Pancras.
There was a second anniversary to celebrate. It was ten years since I'd kissed her. Or, rather, it was ten years since I first kissed her. We had kissed since, of course, but just like that first kiss, all those that followed merely cemented a deep, undying friendship. It was an arrangement that, largely, suited us both. Victoria was a home bird and I was a night owl; we occupied the same nest, but rarely at the same time.
We drifted through the Louvre, wandered down the Champs-Elysees, held hands mutely on the Metro. Here and there, little details emerged out of the rain; the Art Nouveau sign at Saint-Michel metro station. A plaque above Edith Piaf's house. A clutch of American students in Pere-Lachaise addressing an attendant, his face weary from answering the same question – 'Scuse'um wah? Ou est Jim?' A 1965 Citroen DS parked in a side street, one tyre flat and no less insouciantly French for that. We smiled at each other and walked on. And as we did, I touched the box in my coat pocket and wondered where, and how, I would do what I needed to do.
Finally, on the Sunday evening before we were due to leave, the moment presented itself in a small, suitably cheap restaurant in the Marais. We sat on either side of an unstable corner table covered in a faded gingham cloth. The house wine was 15 francs a carafe. The restaurant's only other customers were a middle-aged French couple who picked at coq-au-vin for two and barely exchanged a glance. Their discomfort mirrored my own. Twice, three times, my hand reached into my coat pocket. There would be no grand gestures in this place; not in front of an audience comprising the couple, a bored and uncommunicative waiter and an elderly woman (possibly the waiter's mother) who sat like a concierge in judgement at a table nearest the door, watching and waiting for us all to just leave.
In truth, this place suited me to the ground. My proposal would reflect these surroundings; modest, unassuming and predictable. Before I made it, I knew the answer would be an unhesitating 'yes'. Finally, the long courtship would be set in stone. Friends would say 'Ahhh…' Parents would be happy for us, and quietly pleased that no, we didn't need any gifts, thanks. After ten years we had all the cutlery and crockery we would ever need. Death would do us part, of course, but not yet. Not before little Tim and little Victoria had arrived all pink and smiling, and the house was all paid off.
"Vic?"
"Hmm?"
"Just put your fork down a sec, will you?"
She didn't object. I could see she was enjoying her lentil bake as much as the meat-loving chef had enjoyed preparing it.
She raised her eyebrows questioningly.
"What?"
"Erm…just wanted to ask you something, really."
My hand reached into my jacket pocket. Fumbling fingers opened the lid of the box, squeezing the softness of the filter-tip before plucking the cigarette to the surface and towards my lips.
"Oh Tim, no. Please don't smoke in here. It's just…. common, you know?"
"Not in Paris. Everyone's at it. About the only place these days that you don't get a hand waved in your face when you light up."
Victoria bit her lip and looked out of the window. It had started to rain in the only way it can on a Sunday evening; a persistent, doleful overture to Monday morning.
"Alright," I said, shoving the fag back into my pocket. "Forget it. I'll have one later."
"Sorry," she said. "I shouldn't have snapped. At least you asked first."
"Did I?"
Yes. You said you wanted to ask me something. Remember?"
"Oh. Yes. That. Right, well…..it wasn't about smoking."
"So you were just going to light up without permission?"
"Yes. I suppose I was. But there's a good reason." Up went the eyebrows again. "I wanted to ask you something about….marriage. Are you a marrier, do you think?"
"A what?"
"A marrier. Into getting married. A wedding sort of thing."
Victoria always employed words more precisely than I did. Silently, she pondered whether 'marrier' was a word at all.
"By that expression, I take it you're asking me if I'm the marrying kind. And that you would like me to marry you?"
Yes! She'd got it and I didn't have to utter the dread words that would've embarrassed us both.
"Well, yes I am. I am. What do you think?"
She looked solemn for a moment, then cracked a huge smile. "Oh hun…..how amazing! Course I'll marry you. Thanks for asking. But not next year. Let's wait til the Millennium. Make it a big year. Not church. How about Ashton Hall? And not in white. Blue's better."
I reached over and put her hand in mine. I was pleased. Delighted she'd said yes, and even happier she would make all the arrangements. I was useless at that sort of thing. Now I could just turn up, crack a few jokes, get drunk. Result.
"Tim?" She took her left hand out of my grip and gave it a little wave, exaggerating the motion in her fourth finger. "Haven't you forgotten something?"
"Ah yes, that. No, I haven't forgotten."
She smiled again. "How did you know my size? Not like you…"
"I don't. Not yet. I needed to ask you what it is first. Before I buy it."
I had thought about it and even visited a jeweller's in the mall, but it seemed pointless to guess on something so important. Now I wish I'd taken a chance.
"I'm sorry," I said, watching her expression for a fleck of anger or disappointment. "It just made more sense….."
"Sure. You're right. It's OK. We can choose it together. Then we'll get exactly what we want."
My shoulders dropped. Now it was my turn to smile. "Here," I said, offering her the napkin ring. "Wear this for the time being. We can steal it."
"No we can't, Tim," Victoria giggled. "That'd be naughty. Tomorrow morning we'll find a street stall and get something half-decent."
"And I'll buy some glue, for when the diamond falls out."
"Tim?" she said, suddenly looking serious.
"Yes?"
"You won't do anything stupid on the day, will you? Everything will go to plan. Do you promise?"
In response, I patted her hand.
Later, we mooched back through the rain to the hotel, arm-in-arm. Over the course of the 15-minute walk, Victoria planned the lot: flowers, menu, guest-list, day-do, night-do, colour of the invites. Silently I congratulated myself. I'd chosen well. Our wedding would roll out before me like a red carpet.
Sneakily, we took the disabled persons' lift up the five floors to the attic room. The bed occupied almost every square foot of the space. It was a struggle just to get into our pyjamas. Victoria got into bed and reached for her novel and reading glasses, handily placed beside the chintz lamp. I hesitated for a moment before reaching beneath my pillow and pulling out my folded night-clothes. 'We're engaged….' I told myself, 'engaged to be married. Shouldn't we be….?'
I smiled at Victoria. In response, she knitted her brow.
"Tim, I know it's a special night," she said hesitantly.
"But?"
"I'm feeling a bit tummyish. Bless them, the French don't do veggie. You don't mind, do you?"
I glanced out of the window. The earlier downpour appeared to have muted into a thin drizzle. We had a balcony of sorts, three feet of concrete and a balustrade that would never cure an attack of vertigo. But it would do for now.
"Hun, I'm just popping out for a cigarette," I said, gesturing to the louvre door. She frowned again and wrinkled her nose.
"You'll smell of fags in bed," she said.
"I'll shower. And anyway, it doesn't matter tonight, does it?"
I located cigarettes and lighter, stepped through the balcony door and closed it tightly behind me. Squinting into the mist, it appeared that all of Paris had gone to bed. Windows were shuttered against the weather and the dawn of Monday morning. Below, a solitary cat sidled past brimming bins lined up along the pavement. The amber headlights of a car swept briefly across the square a few yards along the road, disappearing into the fog. Here in this city of love, light and laughter I had never felt so alone.
Then, directly opposite our balcony, a sudden sliver of light caught my attention. A shuttered door opened a fraction. A woman emerged through the narrow gap and quickly shut the door behind her. She was indistinct – like a drawing on the air – yet I could see that her brown hair touched her shoulders and she wore a silk dressing gown, tied loosely at the waist. I watched as she lit a cigarette, took a deep draw and exhaled the smoke in an up-and-down motion. She turned slightly and looked down the street, as if expecting someone. Then she noticed me and smiled, gesturing the smoker's bond between us with a wave of her cigarette.
 I acknowledged the gesture with an awkward 'aren't-we-mad-standing-out-here-in-the-rain?' type of shrug and turned away. Something compelled me to look back across the street, and when I did she was still staring over. She smiled again. Despite myself, I held a moment's gaze with this unknown woman, slim and silhouetted eerily against the muted light of her apartment. She tilted her head slightly upwards, making a gentle but definite nod towards me. Was she smiling? Or smirking? A knot of creeping anxiety tightened around my gut, a feeling I had pushed away so many times over the past decade. Now it bound me fast, tightening, tying me to the truth. If I could've howled in fear, despair, frustration, and all of it, I would've. Instead I stood rooted to the spot, staring deeply at the woman's unnerving, empty-eyed gaze.
 And at that moment, she seemed to know what I already understood. That, yes, there would be a wedding. And no, the marriage would not last. There would be pain and guilt and grief, but no regret. Down this untrodden path would lie events yet undreamed of, lives lost and gained, joys celebrated and troubles shared. It would not be an easy path; equally, it would not be lined with the broken crockery of promises shattered and lives only partly glimpsed, like the shadows of autumn.