Dogs


Image: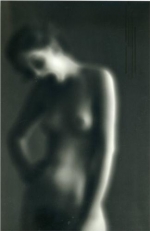 Thu, 21 Jul 2016
Corner seat of a clattering cafe, alongside the stickered window he's sat alone, waiting. Ill at ease, he pretends to look at two retrievers lassoed to bollards outside. They stare back, languid, like he's meat.
She flips in, all bony lines, straps and plastic bracelets; sits and orders. Same as him, but half his age. I can't help but turn the volume down and listen. She speaks first; takes the lead.
'Hey.'
'Hey.'
'How's things?'
'Fine. You?'
'Good.'
He blows his cheeks out; hands open from the sides of his coffee cup.
'So what's up?'
She flicks her straight black hair behind her left ear; traces a finger across a slender collar bone.
'I want you to sleep with me.'
No surprise from him; plenty from me. He finishes the sip of coffee and lets the foam linger before pursing his lips to remove it; puts the cup down gently; speaks.
'How long have you felt like this?'
'Since we met I suppose. I want you to teach me. Teach me about men.'
He twists the metal round his ring finger; contemplative.
'You've been in our house. Met my kids. My wife.'
'I know all of that. But. But I'm sure we could come to some arrangement.'
I'm hooked. He's retrieved the coffee cup, taken a long sip while eyeing those dogs again; chained; constrained. He locks his eyes on hers.
'I'll teach you. I'll teach you everything you need to know.'
She lights up; her smile only just wider than his.
'Oh my God, I'll be discreet, I promise. Nobody will know.'
He holds up a hand to stop her.
'I want everyone to know.'
She's turned like a fly in the air; flailing.
'I want everyone to know that I'm the man who taught you; that I'm the man who taught you about men. That taught you we aren't all dogs.'
He puts the cup down gently; leaves her, I, and the dogs staring.