Submerged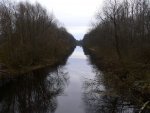 Thu, 03 Aug 2017
Off the bow the float blinks
and we dare not smile.
Not stirred by wind 
or current spat from boulders 
on some distant peak,
this water set, ruffled only 
in the wake of speeding boats,
or shifted by a broken gate,
slow-sucking into lower pounds.
I feel the weight and draw it in, 
the neon bob flails, disappears,
fights for air, your stare fixed,
the joy kept tight loosened now,
and in my head a photograph,
magnetised on an old fridge door -
cross-legged, a pile of rough potatoes,
fat forked worms dripping
from your fingers.
The slack a tell, the float 
dead in the dead water.
I cannot bring myself to reel it in.
Across the bank a moorhen
calls its young, the wind stirs,
a motorway is heard - nothing lost,
we'll sit some more and wait,
I'll keep it fast, submerged, a blessing,
just beneath the water's grasp.