Some Seam Shared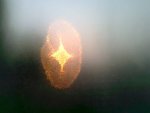 Fri, 09 Feb 2018
1 likes
So she's slumped over sobbing,
great heaves of regret 
falling onto orange nylon, 
and there's a baby murmuring 
and the still-hot-hard brittle sound 
of footsteps, hollow ricochet going down, 
down and away, away keep going, away. 
The sky is not slag and not slate,
but some seam shared, 
and she hears the kettle sigh, cry, scream - 
but stays still, sits, 
until the windows seep and blink 
and try to show something more 
than what's outside's outside 
or the faded lines of dancing men,
and she thinks of the Joneses above 
and the peeling crysanthemums, 
the runty landlord all smiles and stains 
and keep the fucking noise downs and 
rent 
rent 
rent 
dya hear me?
The air is a shock;
past the estate and the factory mass 
are fields and fat hills;
it's a long way there and a long way down. 
The child in her arms is her flesh and blood
and she holds him tight,
remembers a song from the wireless 
they played this morning. 
She thinks there was sun 
and if she closes her eyes, a light forms 
and she hears the song louder,
sees the sun and the rush of light 
and music and light and skin warming,
beams catching rising dust over his shoulder, 
the stubble of his chin -
and she remembers her feet moving 
and a sound like a voice singing 
that might be hers or someone else's - 
singing the song on the wireless now. 
A long way there and a long way down. 
She remembers the sun on her face, 
a song playing 
and her bare feet in the carpet,
dancing.