Walk In The Park With Snow (Part 2 of 2)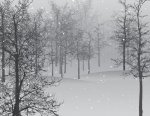 Mon, 28 Jan 2019
   'What did you mean,' she asked, 'by 'one o'they?'
    She was sitting by a smoking fire that was making her eyes stream.  The small house stank, of people, animals, cooking she couldn't identify, unwashed clothing and unclean bedding.  She hadn't noticed it in the open air, but her rescuer stank as well, as did the woman she assumed was his wife, who sat on a stool in the corner glowering at her. Two candles, which smelt like stale cooking fat, sputtered in their stubby holders on the ledge by the shuttered window and on the uneven shelf above the bed. Every so often there was a rustling from one of the corners, and she was glad that the room was too gloomy for her to see that far.    
The man lit a long-stemmed pipe, and another stink joined the rest.  'They,' he said.  'T'other side. Spirits.'
    She started to cough.  'Spirits?'
    The woman on the stool crossed herself and began to murmur. 
    'Allus been spirits round here,' he said.  'Lost souls.'
    'I'm not a lost soul.  I was in the park.'
    The man looked at her.  'Some say, should be done away wit'.'
    The woman on the stool nodded vigorously.
    'But I say,' he went on, 'some of ours, gone o'er.  Come back, w'tales.  How would it be,' he addressed his wife, 'if they'd been done away wit'?'
    The woman gave him a look that indicated this was an old argument.
    'Who went over?'
    The man studied his pipe.  'Her sister's lass, for one.  Two year ago.  Went oe'r.  Come back.  Such tales.'
     'What tales?'
     'Lights wi'out fire.  Carts wi'out horses.  And here,' his arm swept an arc encompassing inside and out, 'here no forest, no animals, no houses.  Plots for flowers.' He sounded disbelieving.  'Flowers.'
    She stared at him.  'Oh my God.  This is like…this is like…'  She struggled for what it was like, and then thought sharply, it isn't like anything.  None of it is real.  She wondered where she actually was.  Had she collapsed, in the snow?  Was she delirious and about to die of hypothermia?
    In the distance, the wolf howled.
    'Don't you need fire?' she asked.  'To keep the wolves away?  Won't they get in?'
    They stared at her with contempt.  'Wolf can't open door, last time I looked,' the man said.
    She coughed again and said, 'Don't you want to ask me any questions?  Who I am?  Where I'm from?'
    The woman on the stool drew her long skirts close, as if afraid of contamination.
    The man pulled on his pipe.  'Tha's from o'er there.  I won't let wolf get tha, but after that…' he shook his head.
    'Who are you, then?' she asked.
    The man studied her.  His wife leaned forward, grabbed his arm and shook her head vigorously.
    'Aye,' he said.  'Tha's right.  I'll not give my name t'spirits.'
    She wondered how it was her own delirious inventions had minds of their own.
    Was it possible?  Could it be possible?
    She pulled her rucksack off her back and rummaged through it while they stared at her.
    'Here.'  She held out her open pocket diary and a biro.  'Write your name, in this book.'
    They looked at her in stupefaction. 
    'Here,' she said again, impatiently.  'Oh…you don't need ink with this pen.  It has its own ink.  Look.'  She quickly wrote her name.  'See?  It just works.  The ink's inside.'
    'Tha'd best see priest,' said the man.  'He can write.'
    She sat, the diary and pen still in her outstretched hand.  'Oh.  Of course.'  The woman was glaring at her.  'I'm sorry.  Oh, but could you make a mark or something?'
    The woman grabbed her husband's arm again.  He pushed her hand away.  'I'm not stupid, woman.  I'll not make my mark forra spirit.'
    She put the diary and pen back in her rucksack.  'How long,' she asked, 'before the wolf goes away?'
    The man shrugged.  'No sound out there now.'
    She felt that if she didn't get out of the smoky, stinking hovel she would choke to death.  And there was no wolf.  There couldn't be a wolf.  She just had to get out of this make-believe room to be able to breathe again and pull herself together and get to the Howerton Green gate.
    She stood up and pulled on her rucksack.  'Thank you.  Thank you for…'  She stopped.  She was thanking figments of her imagination.
    Outside the house she took deep gulps of air that smelt of forest and woodsmoke.  She looked behind her, at the other scattered houses with candlelight flickering behind closed shutters.  She wished she'd asked for a candle.  Clear as the night was, it was difficult to see where she was going, and if there was a wolf…
    Which there wasn't.
    She remembered her phone.  Even with no signal, she should be able to use the torch. 
    The phone remained dark and dead, however much she jabbed it and shook it and swore at it. 
    She looked round her.  She was sure the little group of houses was roughly where the fountain should be, which meant that if she bore left she should, she really should, come to the Howerton Green gate.
    Bearing left led to what looked like the deepest, darkest part of the forest.
    She strode forward.  'There is no forest.  There is no wolf.  There are no houses.  I'm going find out what Andy put in my coffee and I'm going to give him a triple dose.  I'm going to prosecute him.  He'll never work in this town again.'
    She stopped.  The two gleaming eyes were about twenty yards ahead of her.
    'There are no wolves.'
    She heard gentle footsteps as the eyes came nearer.
    'There are no wolves.'
    The footsteps increased in pace.
    She couldn't run back to the house.  She couldn't outrun a wolf.
    She closed her eyes.  Whether it was a wolf, or hypothermia, or a reaction to whatever Andy had put in her fucking coffee, she was going to die.
    A sudden rush of nausea propelled her forward, and she fell against something rough and hard.
    She opened her eyes.  She was hunched over the edge of the fountain, her knuckles white from gripping carved stone through the snow.
    'Are you all right?'
    She looked up.  Two young men stood by bicycles whose headlamps gleamed in the darkness.
    After a moment she said, 'Yes.  Thank you.  I'm fine.'
    The young men glanced at each other.  'Are you sure?  Do you need an ambulance?'
    'No.  No, honestly.  I'm fine.  Just…lost my footing. In the snow.'
    Another glance.  'The gate closes at six,' one said.
    'It isn't six yet?' 
    'Just on quarter to.'
    'But that's impossible,' she said.  She saw the young men's expressions.  'Sorry.  I must have lost track.'
    'I'll go and tell the man at the gate,' one of them said.  'Tell him not to lock up yet.'
    'No,' she said.  'No need.  I'm fine.  Fine.'
    They helped her up and walked with her along the path. The one nearest to her kept inclining his head towards her, and she knew he was sniffing for alcohol. 
    The man at the gate looked her up and down.  'You all right?  Need an ambulance?'  In response to her bewildered look he said, 'CCTV.  All over the park.  Council office radios if they see anything.'
    'What have they seen tonight?'
    'Just you, falling in the fountain.  I'd have come and got you if these two good Samaritans hadn't happened along.  For your safety, after a collapse, I would advise seeking medical attention.'  He spoke as though he were reading the words from a script.
    'Thank you.  I'm fine.'
    'Then I'd get home, if I were you,' he said.  'You could probably do with a lie down.  Maybe get yourself checked over, if a good night's sleep doesn't do it.'
    'Thank you,' she said again to the cyclists.  They nodded, and one gave another slight sniff before riding off.
    She started trudging through the snow towards her own house, breathing in air heavy with traffic fumes.  Her home stood in a cluster with others around what had once been a village green.  As she emerged from the bend in the main road she could see, as always, lights shining steady and unflickering through gaps in curtains and blinds.
    She wondered if she could ask to see the CCTV footage, but thought that, on the whole, she would prefer not to.  When she opened her rucksack she found the pocket diary on top.  Her name was scribbled on one page, obviously done in her delirium so that whoever found her would know who she was. She must have been too confused, in those few very brief minutes, to remember that her name was already in the diary and her Emergency Contacts in her phone. 
    She didn't get the flu, and she decided against accusing Andy.  She couldn't prove anything. On one occasion she started to Google 'Howerton Park weird things' but changed her mind.  She never went in the park again unless it was a sunny day and the paths were crowded with people, and she never told the story to anyone. 
    Until now.