Cone Of Enlightenment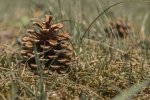 Thu, 11 Apr 2019
Pine cones scattered waiting motionless,
delicate living things, nature's minuscule
diving boards that have no springs,
upturned becomes shelter for tiny world of
insects...but what of movement? I wonder!
Resembles sprinkling fountain maybe,
so no limitations to feed creativity.
Glimpse these curious miracles
you can purchase neatly packed,
in potpourri...occasionally sprayed
or glittered, but it doesn't have
the same affect,
I'd rather wander ancient forests
where they dwell peacefully,
place between worlds where there's
warmth of smile, greeting of hello
and I can watch evening's perfect glow.
Little cone I picked up sits
beside my pottery mouse,
in Topsy-turfy imagination
cone becomes a house,
with tiled roof, chimney too,
inventing attic space
hiding me from view.
Picture by pixabay free images.