Puddle of land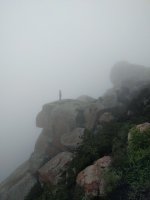 Tue, 11 Jun 2019
2 likes
They started coming soon after a woman on the island of North Ronaldsay mentioned her on a programme about island life shown on the telly. Mhari didn't see the programme as she didn't have a telly and was blind. That was part of the attraction, Mhari later realised. The more difficult it was to get to the island – and it was difficult, a boat would have to be charted from the mainland, and even then it was easily missed, little more than a puddle of land in the Atlantic and even locals said the island shapeshifted and sometimes disappeared – the more incomers felt a sense of purpose in simply arriving.
Everybody had left a long time ago. Loaded scant possessions into small boats and rowed South. Only Mhari's mum and dad refused to go.
It was a narrow track between down to the beach, cliffs overhanging them like knuckled hands at prayer. Wind swept straight and made liquid curves and sometimes boats couldn't berth, but for the time of the year it was easier.   
'Hi Billy,' she shouted to the boatman. He was from Kirkwall and they'd chatted a few times.
He didn't return her greeting. He was too busy helping his passenger disembark safely.  
Billy's father and his friends had once come in the same boat to take her away, had manhandled her on board. She'd jumped overboard, even though she couldn't swim and they'd fished her out and had almost capsized themselves taking her back to the beach.
Cold rain blew into her face and she tried not to grind her teeth as she waited for the latest arrival to trudge up the marshy ground towards her. She knew they were always disappointed that she wasn't older, that like them she wore waterproof clothing and wellies.
She listened to the wheeze in the latest visitor's breathing, her stumbling steps. Billy behind her, herding her, like a sheep he might need to winch up to higher ground.
She had a pleasant enough voice for an English woman. 'How did you know we were coming?' She rested her hand on Mhari's arm as she took a breather.  
'The birds told her,' shouted Billy, laughing.
A gull swooped down between them and rose into an updraft of wind and hovered like a black-and-white kite at play.
Mhari knew that they called her the bird woman and Billy was mocking her. She smiled, finding the humour in his jibe. 'Don't listen to him.' She took her visitor's hand to guide her along the track. 'It's breeding season and the fulmars make a racket when they're disturbed.'
'Mind, Jill, you've no got long until the tide turns.' His voice echoed in the rocks and boulders as he retreated towards the sound of swelling waves. 'An I'm no staying the night.'  
The roundhouse blackened by generations of peat fires which lay between the bay, hills, and clung, haphazardly, to a cliff seemed to reassure Mhari's visitors of her authenticity.  Jill crouched at every step and it had been a heavy task getting her up and inside. She had been glad to slump into a hard-backed, wooden seat beside the fire.
Mhari sat across from her and pushed the spindle holding the kettle across over the flames to make tea and listened for the pause, before her visitors began to speak. Because she was blind, they often assumed she was stupid and they could tell her anything and she would believe it. She didn't mind. She'd lived on solid enough land for long enough and the wind took everything round the world at least once.
'I came here because my family were from these parts.' Jill patted at her chest. 'I need to know.' Then she began weeping.
Mhari took her time making the tea and waited until Jill started sipping it before she asked. 'Better?'
'Yes.'
'Sorry, I've no biscuits.'
'It's OK.'
A rustling sound as Jill searched her pockets, brought out a package wrapped in gaudy paper and held it out.
Mhari took her gift and held it up to her ear and shook it. 'Thank you.'
Jill rifted and held a hand over her mouth. 'Have you always been blind?'
'No, I was born sighted, but I don't remember it at all.'
'What happened?' Jill smacked her lips as she sipped her tea.
'I was much loved. You need to understand that. I see you are with child as well. And it will be well. My mum's firstborn died in the womb. Then her next born died before he drew breath. Each year she gave birth and the light went out of her. I was the seventh and the last. My father was a kind man and he couldn't bear to see any living thing to suffer. Guillemots returning to the cliff often crash with exhaustion. One of them had broken its wing and he had mended it. It used to follow him about, swooping around his head. It lost its fear of man and followed him inside the house and took to waddling about and staining floor and tables with shit.'
Jill chuckled, good-naturedly, at that.
'It perched on my crib, one morning, when my dad was out fishing and my mum was out collecting water and it leaned in, pecked my eyes out and ate them.'
Jill started and almost dropped her mug of tea. Catching it before it spilled. 'That's tragic, what did they do?'
Mhari sat a little straighter in her chair. 'A storm's coming soon. It's in the air. You'll need to leave soon. They taught me to love all things and to see without eyes.'
Jill licked at her lips and rubbed the girdles of fat over her belly. 'Boy or girl?'
'Boy.'
She pressed her lips together. 'Will he be healthy?'   
'He'll be as healthy as you.' She turned her head towards the door and listened to the shifting, sifting wind beating against it and rubbed the curve of her own stomach.