Through the year month by month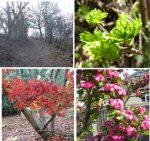 Mon, 12 Aug 2019
https://soundcloud.com/rhiannon-weber/a-glimpse-of-the-months-of-the-year
These were done as a collection nearly four years ago. It was suggested doing a recording at the time, but I only linked to the last (December), so I thought to post them all together. They were inspired (particularly January, February, March and October) by the Welsh 'Telynegion y Misoedd' [Lyrics of the Months] by Eifion Wyn.
January
January: hard frozen,
bleaching the land;
and what have you done to
the village pond?
The ducks like to shelter,
for wintery weathers
leave nowhere to sail
or wash out their feathers.
January: still, barren
with bare, bleak hill,
the birds come to gardens
to get their fill:
the trees their fruit offerings
no longer can keep,
and little protrudes from
the soil's deep sleep.
January: cold bitter
with biting frost –
and some are alone,
their home now lost:
no welcoming hearth,
its warmth now chilled,    
no rest, and no heart-song,
or larder well-filled.
February
Rushing, howling wintery winds,
shake my window, shudder door,
throwing withered leaves around me,
whirl the twigs along the floor,
bend the oak, and buffet ship
til it dance and roll and skip:
February brief has shrunken days –
early dusk, and dawn delays.
Powerful, freely blowing, roaming
over hills and sea with zest:
frail ones keep inside their homesteads
hedgehog kept within its nest;
the swallow likes a gentle breeze,
and butterflies the summer warm,
but some enjoy your roaring bluster –
pummelled by a pounding storm.
February winds gust, blast and batter:
cover sea with horses white,
smother hills with drifting blizzards,
booming voice resounds of might,
but if there comes a fragile bleating –
early lamb on lonely field,
may it lie in sheltered hollow,
shielded, from the gale concealed.
March
What do I see? a daffodil
woken up to shiver, glow
smile of spring, despite the chill:
unseen, the buds and bulbs regrow.
What do I see? some leaves, crushed tight,
unfold their creases and expand –
the dormant life let out to light
soon green will spread across the land.
What do I hear? the birds in song
chorus of voices sweet and skilled,
then later gripping twigs they wing,
slip into bushes, nests to build.
What do I feel? the warmth increases:
some rise from sickbeds, feeling stale,
emerge, and find fresh air releases
health and bloom to faces pale.
April
Suddenly the slow emergence
comes rushing out in full abundance
trickle of colour becomes a flood
by rain and sun drawn out of mud –
beauty cascading in to fill
the fields and banks, excite and thrill;
bouquet disguises sloe hedge thorny –
bedecked in froth, no longer scrawny;
on banks and meadows, roadside verges
primrose patches, cloudy surges
of dainty, wafting lady's smock
– a favourite caterpillar snack;
the woods with vibrant carpet hue
and here and there amongst the blue.
wood anemone in pools of white;
screaming swifts' distinctive flight, ,
sunshine, showers short, and rainbows,
cuckoo calls and swooping swallows.
May
Month of fresh and shining shade,
glowing green of woods and glade.
From tiny eggs that had been hiding
over winter waiting, biding,
now larvae nibble tender food –
get fed themselves to nestling brood:
leaves and flowers for bugs and bees
bring busy bird life in the trees.
June
Overflowing with flowers and scent and song
fledglings aflutter
and meadows like butter
and the evenings stretching out light and long.
Big ox-eye daisies and leggy cow parsley
waving beside
the road as we ride,
and gardens exploding in colour profusely.
Don T-shirts and sandals, doors open to breeze –
though hindered by chores,
and the pollen count soars,
fresh freedoms of summer we joyfully seize.
July
Relaxing warmth and summer glow,
we've watched the fields and hedgerows grow,
and now it all has reached a peak
– contentedly replete and sleek.
And yet in places all's a tangle,
as weeds compete the paths to strangle
– deceptive nettles soft, and bramble
snakes out, scratching as we ramble.
Ripening corn in days of heat,
foxgloves rise, and meadowsweet
– creamy froth, and nuts pale green
bunched on hazel trees are seen.
August
The flower harvest of the spring
is past, now combines reap, to bring
the gold seed in that's multiplied,
and multitudes are well supplied.
The greenery's tired, its springtime flush
has dulled, the lengthening surge and rush
of plants that shot up thin and tall
has slowed, they wither, soon to fall.
The birds' songs hushed, nest duties ceased,
some moult, but all exploit the feast.
We soak the warmth of sunshine rays   
between the showers: school holidays.
September
Crisp, dewy morning,
glittering webs festoon
and decorate the hedgerows;
shortening days, but often
a dazzling afternoon –
watch weary children drag
homeward, morning's sweatshirt,
stuffed in schoolwork bag;
swallows, martins skim around
– last long feast, before
the journey massive, southward bound,
withdrawing from this scene
of cooling, wilting – tinging
autumn hues emerging;
rowan berries brightly glow,
crane flies flutter, fluster, blunder;
tractors, trailers trundle
down the lanes, the traffic slow:
potatoes scooped from under earth
(crisp packets soon to fill?),
apple orchards yield their worth
for bowl or pie or cider mill.
October
The green now recalled,
the flowers have fled,
their finery faded
– a shroud for the dead.
Each sleepy day shorter
– the daylight flies –
sooner and sooner
it closes its eyes.
Prepared for the winter
prepared for the spring,
food stored, so that future
new growth can begin.
As frosts crisp leaf litter,
and trees' hues ignite,
sun melts mist of morning,
and the colours blaze bright.
Toadstools appear,
on lawns, in the mulch,
the ground getting soggier,
our boots squish and squelch,
How precious a home,
a haven that's warm
as winter creeps nearer,
with ice, wind and storm.
November
Between the summer lushness
and the sleep of winter's starkness
the disarray and scruffiness,
the dirtyness and greyness
of November
weighs heavily upon a mood that's sinking
for the warmth and sunlight's shrinking,
but low and watery sun breaks
through the muffling mists
or heavy skies that glower,
and russet hedges glow,
and here and there there shines
an out-of-season flower.
Fresh and breezy air invigorates,
and as autumnal colours turn to mud
decaying, making food that will do good
to trees from which they came,
and give some winter warmth and shelter
to insects through the coming cold
we're glad we can return to cosy homes,
with glow of artificial lights
to brighten up the daylight dull,    
and lengthy nights.
December
Tired land, waiting
– waiting for its life to grow
again,
waiting for the snow
to clothe, and warm, transform;
silhouettes of sere trees on evening sky
– some graceful, symmetrical,
some tangled, meandering twigs –
all beautiful
raw-boned shapes held high aloft,
and lower down bright cushions velvety
of mosses, saturated, soft;
trunks with algal wash
of burnt orange rust
or bright green dust
smeared on with gentle brush,
fluffy greyish lichen tassel decorations,
and twig growth in contortions,
fungal distortions
– 'witches broom',
squirrels' dreys exposed,
old nests disclosed
and mistletoe orbs festoon;
metabolism resting, waiting
for the spring,
– like wise men, parched and longing
waited for the coming of the Saving King
new Life and love to bring.