The Coffee Pot on the Corner - A Craven Danger Mystery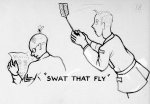 Thu, 09 Apr 2020
Steve Papadopoulos is the proprietor of the Coffee Pot on the Corner. With ten mostly stable stools at the counter and five like tables along the wall, Steve serves as cook, counterman, and champion fly swatter.
"Hold still with that fork full of hash, Mr. Danger. There's one on your fedora."
"Yeah, well, I brought it in with me, Steve. He's a friend. Leave him where he is."
"Well, excuse me, Dr. Dolittle, but I run a clean establishment. No disease carrying pests allowed. Now hold still."
"Doggone it, Steve! You put another fly splat on my fedora. That makes the third one this month."
"Then don't eat with your hat on, Mr. Danger. It's not mannerly. Maybe if you paid your tab on time you'd be less noticed by me."
"And do you have to hang that fly swatter so close to the grill? It's oozing with the swatted carcasses of the past ten years. I'd hate to think what sort of insect secretions are inhabiting this hash I'm eating. I'm gonna phone in my breakfast order from now on. Maybe what I don't see won't make me so queasy."
"Don't worry so much, Mr. Danger. I'll have Dwayne give the swatter an extra scrubbing tonight."
"Dwayne?"
"The Dobbins boy from around the block. He's my new dishwasher and sometime delivery boy. The kid just graduated high school and came in looking for a job that'll inspire him to write detective novels. He wanted a place that reeked with atmosphere. I told him if he likes the smell of unemployed reekers with nothing better to do than to take up space at my counter, he came to the right place."
"I'm plenty employed, wiseguy! And for your information I can teach that kid a thing or two about the inner workings of being a private sleuth. I'll even take him under my wing."
"If I'm whiffing what I think I'm whiffing, under your wing is the last place I'd look for inspiration, Mr. Danger. More coffee?"
"Wiseguy."
"Dwayne! Come out here and meet private investigator Cravens Danger."
Eighteen year-old Dwayne Dobbins lumbered in from the back room like he wasn't quite sure his legs would follow."
"Hello, Mr. Danger. I'm excited to know ya! Private investigator, huh? I'm gonna be paying extra close attention to your every move!"
"Good to know you, kid. And don't get too close, I'm claustrophobic. Steve here tells me you'll be cleaning that moth-eaten fly swatter tonight."
"That's right!" said Dwayne. "I dunk it in a pot of boiling water and leave it there until them fly wings float to the top and start bouncing around in the bubbly water like they was in a Busby Berkeley musical. When I figure it's clean enough, I take it out of the pot. Then I stand still for a moment and pretend I heard a suspicious noise.
"Who's goes there? I say. I get no answer at first. Which doesn't surprise me because I'm alone at the time. Then I tell my imagination it has to do better than that or I'll never live up to my dream of writing dime store detective novels. So I stand even stiller, and again I say, Who goes there? Then I close my eyes real tight until my imagination gets the message. Suddenly I hear, Drop the fly swatter, kid. If ya know what's good for ya!
"You're a one-man radio show Dwayne."
"Ooh, I tell ya, Mr. Danger. I gave myself the shivers! But then I coughed up some courage and said, Oh, yeah? Who's gonna make me? My momma didn't raise no sissy!
"You tell him, kid."
The fact is my momma did try to raise a sissy, Mr. Danger, but I'm trying to balance my heroic side with the side that tells me to run for my life."
"Welcome to adulthood, Dwayne."
"I'm the youngest of nine boys, so my ma's been clinging to me extra hard because my brothers have all left home. Some dragged away in cuffs, others dragged away by the draft board, and two dragged away by angry ladies with cryin' babies. So Ma prays to God to keep me with her until she's dead, or until Pa decides to come home after he finds himself first."
"You got a little side-tracked, Dwayne."
"Sorry, Mr. Danger. So after I said, Oh, yeah? Who's gonna make me? My momma didn't raise no sissy!, I hear the gun shots! Then I look at my fly swatter, and it's got more holes in it than any of my 'ol man's stories about what happened to the rent money. So I switch off the light! I figure the culprit can't hit what he can't can't see."
"My thinking exactly, Dwayne. Go on, kid, I'm riveted."
"Sorry, Mr. Danger, but that's where the story ended! I forgot I was afraid of the dark. And the moment I turned off those lights I remembered that fact and it caused me to wet my pants. Now I had to find my way to the bathroom in the dark."
"Why didn't you just turn the light back on, Dwayne?"
"Doggone it, you're right, Mr. Danger! Geez! Why didn't I see that part comin'?  Thats why I need your special guidance. Because had I put the light back on I would have seen that culprit making his way out the door with the tray of rice pudding!"
"The burglar came in to steal rice pudding?"
"Steve makes the best rice pudding, Mr. Danger. Folks come as far away as Staten Island to get there mitts on it. "
"They do," said Steve. 
"And if I saw him leavin' with the rice pudding I would have leapt over the counter and whacked him senseless!"
"With a fly swatter?"
"You play the cards your dealt, Mr. Danger. At least that's what my pa said the last time he came home without the rent money."
"Dwayne," said Craven. "If you wanna be a good dime store novelist, I suggest you lose the fly swatter. Nobody wants to read a story about a fly swatter. Next time, man up and put yourself in an armored tank. Wear a belt full of grenades if you have to."
"I'm gonna write that down, Mr. Danger! My first pearl of wisdom from the mind of private investigator Craven Danger!"
After all was said and done, Craven Danger put his hat on his head and walked out the door. Container of rice pudding in hand.