Pigeon Variations - Ch 52 - The Other Side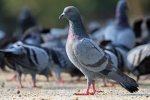 Mon, 28 Dec 2020
Waves of heat shimmered in the scorching afternoon sun. A combine harvester kicked up thick swirling dirt clouds as the blades rotated. In the field opposite, several farmhands loaded a lorry with bales of hay.
As they worked, they heard a shrill scream. They scanned the fields to figure out where the agonised cry came from. One of them pulled out a pack of cigarettes and lit one. Another pointed to the treeline.
A pigeon fluttered its wings and ascended into the clear blue sky. It was a disappointment for them. They hoped to see a kestrel or a kite or an eagle.
Of course they did.
But no, it was a pigeon.
The farmhands smoked their cigarettes, shared a bottle of water, and went back to their labour.
The pigeon perched on the tree that arched across the single road cutting between the fields.
Because that's what birds do.
They perch.