Building A Boat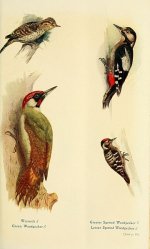 Wed, 02 Jun 2021
A woodpecker's yaffle
tells us about the rain;
a harmony to appease
June's green fire.
A drum on a sycamore,
a knock for a church's door -
though no amount of sin
would have me pleading
to any god, and besides,
some misdeeds 
are unforgivable, or
unforgettable; I no longer
remember which.
Chisel-beaked and 
iron-headed, little carpenters,
perhaps they will build a boat
for the freedom of man,
from a womb that begins
to look like a shadow 
on a lung, or a dark mirror
that only the purest 
may peer in. 
And I, too, want to sail away,
but I do not dare ask
the woodpecker
if I am worth saving. 
 
Image is from here: https://commons.m.wikimedia.org/wiki/File:British_birds_in_their_haunts_(9785569865).jpg
Also on Twitter: https://commons.m.wikimedia.org/wiki/File:%27The_Sycamores%27_by_Alexandre_Calame,_Cincinnati_Art_Museum.JPG
Woodpeckers are sometimes called yaffles because of their calls. https://m.youtube.com/watch?v=G8j11YH29_s In a number of cultures, too, there are stories about woodpeckers releasing a man or mankind from inside a tree.